Susan Sarandon Will Have A Multi-Episode Guest Role On The Big C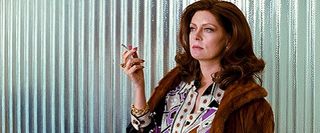 Showtime's The Big C will have a multi-episode appearance from an Oscar winning actress. Season 3, which is set to premiere on April, will bring Susan Sarandon to the show for several episodes in which she will play an inspirational cancer survivor who has a major impact on main character Cathy.
The report came from The Hollywood Reporter today that Sarandon has signed on for a story arc where she will come into close contact with Laura Linney's Cathy. She'll have Cathy questioning whether she has been using her own experience with cancer as effectively as she could, providing an example for what a survivor can do to inspire others.
Sarandon is the second guest star confirmed for the upcoming third season of the series; the show recently booked Victor Garber to appear in an upcoming episode. The dramedy takes a look inside the life of a wife and mother who is battling cancer and sees life in a very different way after her diagnosis.
With an Oscar, four Emmy nominations and a long list of television guest appearances including Friends, ER and 30 Rock, Sarandon is a big name, A-list star sure to draw some attention to the Showtime hit, and having her on for several episodes is exciting news. The third season has been much anticipated for fans since the cliffhanger ending of Season 2, and the growing list of talented guest stars bodes well for a strong return this season. The Big C returns to Showtime with the third season premiere on April 8th, but there's no word on when Sarandon's episodes will air.
Your Daily Blend of Entertainment News
Your Daily Blend of Entertainment News
Thank you for signing up to CinemaBlend. You will receive a verification email shortly.
There was a problem. Please refresh the page and try again.