Sword Saint: Hereos Webisodes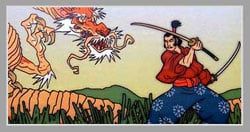 Do you remember back to when we last saw Hiro on the Heroess season finale? He accidentally landed in 17th-century Japan (yeah, talk about his time travel power going a little wonky)? Well, in the final minutes of the May 21st finale, Hiro met samurai, Takezo Kensei. And for all you hard-core Heroes fanatics who don't want to wait till the premiere to find out who this samurai is, you're in luck! A five-part NBC Web series called Sword Saint is streaming as we speak, TV Guide is reporting.
Heroes creator, Tim Kring says "It's a fake documentary — actually it's more like a Ken Burns mockumentary — that explores the legend of Takezo Kensei. "
Sword Saint will air in three-to four-minute installments and will be narrated by John Rhys-Davies, who some of you might remember from Lord of the Rings. Throughout the series we will watch as Takezo battles snake women, climbs a frozen waterfall, defeats 90 cannibals (you know, usual, everyday tasks) ON HIS OWN. Takezo does all of this so he can defeat White Beard, "a Genghis Khan-wannabe who is trying to conquer Japan. "
I like Heroes as much as the next person, but this just does not interest me in the least. In fact, I'm not all that excited to see how this plays out on screen come September 24. I'm much more interested to see what happened to Peter and Nathan.
But for those of you gee - I mean, fans, you can check out Sword Saint here, at Yamagato Fellowship.
Your Daily Blend of Entertainment News