Syfy Renews Stargate Universe And Sanctuary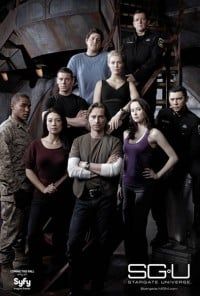 After posting strong gains on Friday nights, Syfy has renewed both Stargate Universe and Sanctuary for new seasons of 20 episodes each, according to Sci Fi Wire. The news doesn't come as a real surprise, as the rebranded Syfy doesn't seem capable of producing a dud. And even shows that were born in the "Sci Fi" era, like Sanctuary, have shown improvement.
I guess it's easier to fool people into thinking this isn't a science fiction network than we thought. It does help that they have wrestling on there. At least it clarifies that the network handles fantasy as well.
While Stargate Universe hasn't clicked with many long-time fans of the Stargate franchise, there are plenty of fans who are watching it as their first foray into that world, and are enjoying it tremendously. Sanctuary features former Stargate staple Amanda Tapping, and has grown creatively over the past two seasons thus far.
I'm enjoying both series. I think Sanctuary made a brilliant strategic move by dumping the character of Helen Magnus' (Tapping) daughter, Ashley, and moving more into the world of the abnormals these facilities are supposed to be working with. It's working now on finding a balance between larger plots and "monster of the week" capers. Whilte it's certainly not as light as Eureka, or Syfy's other new hit Warehouse 13, there's a lot of fun to be had in Sanctuary. Hopefully, with this big fat 20-episode order, they can lay the groundwork for something epic.
Stargate Universe came out of the gate with epic potential. I'm one of those people who never gave the Stargate franchise a try. I didn't have Showtime when it started, and never could afford to catch up on the episodes I missed. Add to that the fact that I hate to come in late to anything and there's ten years of SG-1 and five of Atlantis and you can see why it's pretty intimidating.
Reading that SGU was taking the franchise in a wholly new direction was enough for me to sample it. It's not perfect television, by any means, but it upsets the conventions of a typical space-faring adventure enough to make for some pretty compelling television.
Stargate Universe is on a scheduled hiatus until sometime next year. Sanctuary is airing Friday nights at 10 PM ET on Syfy.
Your Daily Blend of Entertainment News