TLC Cancels LA Ink: Kat Von D Says She Was Done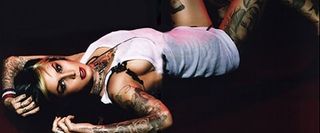 The Queen of Tattoos will have to give up her throne: TLC has cancelled LA Ink. E! Online reported the official demise of the show today. The fourth season of the Miami Ink spinoff currently in progress will be its last, TLC is apparently finally fed up with Kat's diva behavior.
After a season in which Kat Von D had her then-fiance Jesse James image tattooed on her body just prior to announcing their break-up, and then stormed off the set of an interview because the poor body art decision and defunct relationship was mentioned, Kat's drama has been at an all time high. And that's saying a lot for the melodramatic reality TV star. After the ill-fated interview, Kat proceeded to cancel the rest of her press tour to promote her show; now the show has been cancelled in return.
Kat Von D tweeted her response to the official press release from TLC, stating that she had in fact decided not to continue doing the show and TLC had turned it around on her by announcing the cancellation. Whichever is true, the end of the series will go down in history as a cancellation, and Kat Von D has earned herself a reputation as a difficult diva – wait, she actually had that reputation already. As for where Miss Von D will land, well, they say felines always land on their feet. If that's so, this Kat will be just fine. Perhaps a tattoo to commemorate the final episode?
The final episode of LA Ink airs September 15th on TLC.
Your Daily Blend of Entertainment News