TLC Under Fire As Rumors Fly About Breaking Amish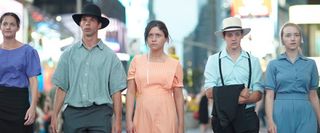 It's not the first time a reality series has faced accusations of staging and stretching the truth, but TLC is facing some pretty serious accusations that bring into question the entire premise of their highly rated show Breaking Amish. And this time, the rumors aren't being brushed off – the network is admitting that things might not be what they were advertised to be.
Breaking Amish follows a group of Amish or Mennonite men and women who leave their families and farms and head to New York to experience a life of technology and temptation. The series has been presented as the opportunity for viewers to come along for the journey as the young men and women leave home for the first time and see and do things they've only dreamed of. Unfortunately, it turns out those dreams have already become reality for some of the show's stars. Not only have some of them already been outside their Amish communities, it seems their relationship to each other isn't as it appeared either.
A Facebook page has been set up dedicated to "the truth" about the show. It includes photos of some of the stars in decidedly un-Amish outfits, and also includes a photos showing that two of the stars already have a baby together - in factm they were married and divorced already. The show, however, portrays them entirely differently with no reference to their previous connection.
TLC is defending the show, issuing a statement saying, "There is a lot of information floating around about the group featured on 'Breaking Amish.' Much of it is not true, but some of it is -- and is addressed in upcoming episodes.". They also point out that they don't actually advertise the show as being about Amish out of their element for the first time. As Variety points out though, Hot Snakes Media, which is behind the show, does use those exact words in its description of the series:
I don't think there is a viewer of reality television out there who doesn't realize that there's a certain amount of staging and of course spinning of the stars' lives that goes on in any show. This one however, seems to make the entire premise of the show a lie, a premise that has brought in about 3 million viewers to TLC for the first two episodes. How real should reality TV be? As the lines continue to blur, we might have to just get rid of that terminology altogether.
Your Daily Blend of Entertainment News