TNT Will Not Step In To Give Law And Order A 21st Season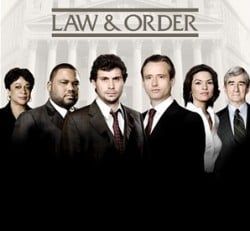 Gunsmoke can rest easy, knowing that it will at least hold onto a piece of the record for longest running dramatic series in network television. TNT has stated definitively they have no interest in reviving Law & Order for a record-breaking 21st season, as reported by the LA Times.
Fans had been hoping the network would come through with an eleventh hour pick-up, the way they did for Southland. But the latter show recently reported drastic budget cuts, so it comes as no surprise that Dick Wolf wasn't able to get a deal done to bring back the expensive Law & Order.
He doesn't appear to have given up hope, but as part of their repeat deal for the series, TNT has approval rights for any future deals Wolf might secure, as they'll be on the hook for any new episodes produced as part of their syndication deal. What this likely means is that it's going to be twenty and done for Law & Order.
But at least the venerable series can be proud that it did achieve something Gunsmoke didn't: it established a hugely successful franchise. Trial by Jury and Conviction didn't last long in the mid-2000s, but both Special Victims Unit and Criminal Intent are going strong, and Los Angeles is kicking off next season. Wolf even spawned a British version in 2009 with Law & Order: UK. That's a lot of power yet for a franchise two decades old.
Your Daily Blend of Entertainment News
Your Daily Blend of Entertainment News
Thank you for signing up to CinemaBlend. You will receive a verification email shortly.
There was a problem. Please refresh the page and try again.