TV Recap: America's Best Dance Crew – Speed Up Challenge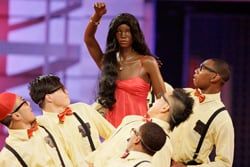 There are seven teams remaining in Randy Jackson's effort to discover the next great American dance crew. Four find themselves safe to dance another day: Boogie Bots, A.S.I.I.D., Super Cr3w, and SoReal Cru. Of the bottom three, Fanny Pak escapes elimination and joins the safety circle. Our two footloose fighting squads are Supreme Soul and Phresh Select. Gasp!
This week's challenge is to choreograph a routine to a slow song that switches it up and cranks up the speed.
Crew: Boogie Bots
Song: "Lollipop" by Lil Wayne
Last week, Boogie Bots' old school video game-inspired routine was tight, creative, and everything you'd expect from these dancing machines. However, something seems to switch off when the speed kicks in. Shane Sparks loves the performance but finds the transition to the fast portion of the routine sloppy. Lil Mama agrees and thinks they need to move more as a group. JC Chasez chooses to ignore the dancing completely and speak only of crewmember Jozar's comatose dad – I know he'd be proud of his son's accomplishments too, but what about the challenge? Personally, I wasn't too impressed. Whoever chose the drab outfits must have been depressed or something. And yes, the transitions were sloppy along with the rest of the fast dancing. The routine came across like they didn't really care. I don't believe that's the case, but looks are often deceiving and Boogie Bots looked like they felt defeated.
Crew: Super Cr3w
Song: "Creator" by Santogold
This song is addictive, but in a strange way. Not like Percocet or chocolate, but more in the vein of sniffing sweaty socks or eating cigarette ash… er, have I said too much? No worries, I'm getting help. It's odd, it's cool, and it's a bit jarring. Love it! Super Cr3w has a great theme that matches their vibe and dance style well: a graffiti artist tagging several golden statues. Lil Mama likes their originality and even dubs them the most original crew on the show. Don't know if I agree with that, though (see A.S.I.I.D. and Fanny Pak). JC thinks Super Cr3w are "super athletes," but warns them against wasting precious seconds on too much storytelling and set-up. Shane says that this is the first time he wasn't blown away by the crew. I wasn't knocked off my feet either, but did anyone else notice that the dancer playing the tagger knocked kind of hard into the junk of one of the golden statues as he slid through his legs? Did I see that? Way to take one for the team.
Crew: A.S.I.I.D
Song: "Dangerous" by Kardinale Offishall feat. Akon
I like this crew a lot and not because Joey's deaf – I'm with Lil Mama, no pity parties here. Especially considering Joey's so friggin' talented; he should be pitying my two left feet. But his deafness does provide some drama this week. A slo-mo scene from last week's performance reveals that Joey's hearing aid flew out of his ear and into the audience, never to be heard from again (wow, no pun intended but that was pretty bad). I wonder if someone caught it and took it home as a souvenir. What good will it do you, you evil bastard? Unless you're deaf, of course. Oh, Charmaine, you're on a roll tonight. You should stop now. Well, Joey doesn't let the loss slow him down. A.S.I.I.D.'s routine doesn't sacrifice dance for story or vice versa. JC is pleased to note that this is the first group to hit the slow portion of the dance well and take advantage of the full number. However, he is confused with the costumes and their connection to the theme of the routine. What, JC? You haven't heard of criminal hip hop ballerinas? Shane gets it. He's completely enamored with the hip hop/ballet fusion, as am I – reminds me a teensy bit of the daring dance style mix of last season's Broadway/hip hop crew, Iconic. And Lil Mama congratulates Joey for being "the hardest boy in the group."
Crew: SoReal Cru
Song: "With You" by Chris Brown
Sorry, DJ Rashida, but I'm just not a fan of your master mixes. Until this one. Shane loves it as well and thinks this is the perfect song to set the tone for the night. However, he thinks SoReal's transition to the fast dancing is weak. Lil Mama gives the group a little more credit by pointing out that their intricate choreography has trouble translating to sped-up music. JC likes the music video feel at the start of the routine but can tell that the crew was thinking too much during the fast section and thus couldn't adequately sell the dance to the audience.
Crew: Fanny Pak
Song: "Touch My Body" by Mariah Carey
I love, love, love how theatrical this crew is!!! It's a mini musical movie every week! Tonight, we're witness to a crazy 80s prom where the punk princess spikes the punch. Lil Mama echoes my sentiments when she declares that "this group totally deserves to be here." Shane also repeats my thoughts when he claims that Fanny Pak is "his favorite group right now." JC appreciates that they mastered the most important part of the challenge: transitioning and choreographing to fast music. He also likes that their weekly use of props never interfere with the quality of their dancing. But he does feel a little funny watching white dudes booty shakin'. Don't know why; they were really good, on par with a lot of club girls I've seen. Oh, maybe that's why.
Crew: Phresh Select
Song: "Shawty Is a 10" by The Dream
The first of the bottom 2 crews to dance for their lives is Phresh Select. During the audition footage, Mark struggles with a "scorpion" transition move but maybe that's because he's 8 feet tall! He handles it fine during the routine, but he and his crew still manage to bore Lil Mama. During her comments, she already sounds like she's saying goodbye and good luck. Shane totally hates the corny nerd theme. Guess it says a lot about me, but I liked the outfits and the theme of the routine. Not so much the dancing. Shane makes an excellent point that Phresh Select formed just prior to the show, so they are lacking a lot of the chemistry other more established crews have.
Crew: Supreme Soul
Song: "Party Like a Rock Star" by The Shop Boyz
Supreme Soul were shocked to find themselves in the bottom 4 last week. Looks like they took that as an invitation to turn up the heat. The song choice is great and I love the hardcore rock vibe to the whole routine. The only thing that disappoints me is the shoddy production work (or is it the editing?) that dictates the front stage-level camera switch to an above-stage shot right at the end of the routine (don't I sound like I know what I'm talking about?), right before the two center crew members pull their shirts up over their heads to reveal skull faces. Yes, we get to see the terrific star formation but we could have waited to see that. At the very end of the routine and not seconds before. But even that doesn't take away from an awesome performance. JC says they should come hungry to win every night and Shane praises them for having the best night ever.
After careful deliberation, the judges decide what I've already determined…
Phresh Select, your banner must fall.
Next week: The crews must dance to the music of the irrepressible Janet. Ms. Jackson, if you're nasty.
My prediction is that A.S.I.I.D. and Fanny Pak will thrive. Bottom Three: Boogie Bots, Super Cr3w, and SoReal Cru. Who will lose their spot? Let me know what you think.
Your Daily Blend of Entertainment News
Thank you for signing up to CinemaBlend. You will receive a verification email shortly.
There was a problem. Please refresh the page and try again.