TV Recap: America's Next Top Model – The Notorious Fierce Fourteen/Top Model Inauguration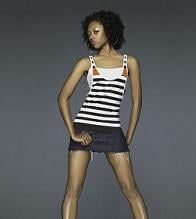 Just sit right back and you'll hear a tale, a tale of nails and hair,
It started ten seasons ago, and tonight's the 2-hour premiere!
The 2-hour premiere…
It's Cycle 11 of Tyra Banks' baby, America's Next Top Model and I'm too excited! Bear with me as I try to recount all the many new happenings this time around. And there's a lot – my smoking keyboard will be testament to that.
The theme for this season seems to be all about The Future. The eager semi-finalists gather at The Top Model Institute of Technology and are met by Alpha J (a.k.a., runway diva extraordinaire J. Alexander) and Beta Jay (a.k.a., celebrity makeup artist/fashion photographer Jay Manuel), both dressed as Ziggy Stardust twins. They instruct the girls to don skin-tight bodysuits and boots before submitting to a full body scan (a.k.a., photograph) and runway walk analysis. Tyrabot (or oversized, robotic Tyra Barbie) shows up and sends the girls into fits of screams. And the competiton begins. Let's meet some of the girls…
Brittney B., 18 from Chicago, IL
From the sound of her, she's already trying to trademark herself, and, sister, I can't hate on you for that. What I can hate is the monster attitude with nothing to back it up. Britt, you can't even name three designers? Even I know Valentino, Versace, and Badgley Mischka! Me, the girl who owns one pair of badly scuffed boots and wears grey wool pants in the summertime. She should be ashamed. Oh, and let me not forget the lucky panties she insists on carrying. Not wearing. Carrying. In her hand. And pressing against her face. Good Lord, I hope she wasn't just wearing those.
Lauren Brie, 20 from Charlottesville, VA
The most interesting thing about her is that her father is the Chief of Police for her podunk hometown. She thinks she looks exotic, but to me she could be Sarah Jane from next door. Ho hum.
Analeigh, 19 from Sacramento, CA
A former competitive figure skater who tells a crazy story about being approached by a fake modeling agency recruiter who attempts to sell her as a bride to a Saudi prince!
Clark, 19 from Pawleys Island, SC
A perfectionist who thinks she's the prettiest girl in the competition (she's not) and claims to have no body image issues.
Kacey, 19 from Palmdale, CA
A black girl called "white girl" by those she knows for the white friends she used to have. Used to have, but not anymore. Why? Because they couldn't understand why she refused to go swimming. Are you for real? Yes, we see it's a weave. And I think by this decade even your white friends are hip to that. Nice try with the ingratiating back story, but Tyra sees right through it and so do I.
Marjorie, 19 from San Francisco, CA by way of Marseilles, France
Finally! The goofy, awkward, nervous wannabe model with the freaky laugh and small humpback who'll probably go really, really far (a la Heather from Cycle 9). I'm dying to give honey a ham & swiss croissant, though.
Veronique, 19 from Riverside, CA
A Mormon wildchild sent to a lockdown facility for three months after having underage premarital sex with her ex-boyfriend. Bet you wish you had Gov. Palin as your mama, right? All you would've had to worry about was whether to serve chicken or fish at the shotgun wedding reception.
Isis, 22 from Prince George's County, MD This girl is fierce but not that beautiful, and it's not because she was born a he… Okay, if you're catching flies right now you must have been living under a rock for the past few weeks: Isis is the first transgender contestant on the show. And pre-op, no less. Her biological sex doesn't make her unattractive (I've seen some divalicious men make prettier females than most women), but she has one of those ugly-pretty faces Tyra's always talking about that make great photos. Last season, she was an extra on a photo shoot who captured Tyra's eye for knowing how to work the couture poses.
I've got mad respect for Isis for admitting that although she's proud to represent for the gay, lesbian, and transgender community, she's really in this contest for herself and her own dreams. She shouldn't have to be a walking, talking, posing billboard. However, she does wear a huge target. Those vicious, backbiting girls in the competition start whispering (especially Brittney B. and Kacey) but Isis takes it all in stride, more woman than any of them. The shock and muted disgust on their faces is funny, especially considering this girly-boy is gonna kick their pretty little booties all over the catwalk.
Sheena, 21 from Harlem, NY
The most ghetto fabulous Asian chick I've ever seen! Besides Kimora, of course, and the resemblance is uncanny. During the earlier runway walk analysis, she was the only model to partially unzip her bodysuit, foreshadowing some of the hoochiness to come. I like her already.
Lindsey, 23 from Clinton, MS
A married plus-size model who Tyra thinks is a little small to be plus-size. Don't worry, T, the camera adds 30 lbs.
Brittany R., 19 from Henderson, NV
A biracial girl (African American mother, Native American father) with some modeling experience; was the first African American female to get the cover of The Las Vegas Weekly. She wants to show the Greater Las Vegas area that there is an African American presence in local modeling and in the community. It's true – it was my hometown for a hot minute and black folk are there in droves.
Hannah, 18 from Fairbanks, AK
A naïve young thing from the land of snow, ice, and snow. And she won't let us forget she lives in the sticks.
Joslyn, 23 from Lucky, LA
A Southern gal who claims to have auditioned for ANTM over 30 times! Has the nerve to point out how much "older" and thus more mature than the other girls she is. At the age of 23. Shut up. No, really. Shut up. Mr. Jay is so wrong, your accent is not charming and the squeaky pitch is closer to nails on a chalkboard.
Renee, 19 from Inglewood, TN
Wants to put Memphis on the fashion map???
Elina, 18 from Seattle, WA
A dark, brooding, vegan omnisexual with a developing crush on fellow contestant Clark; wants to use modeling as a platform for her own personal activism agenda. What agenda? "Save the Skinny Jeans"? Or "Reduce, Reuse, Recycle Last Season's Shoes"?
Nikeysha, 19 from The Bronx, NY
Each cycle, the contestants' desperate enthusiasm bugs the crap out of me. At this point, I'm losing my patience fast. Nikeysha shares her joy by very gingerly raising the roof over and over. Wait a minute. Let me fasten my seatbelt and drive the DeLorean back to the real future. Tyra mentions the fact that Nikeysha flashed the camera during her audition tape. Oh, Ni-Ni, that wasn't an invitation to do it again! It was the start of a warning – don't ever do it again. But you're still not hearing; I guess that's why you're removing your gel bra inserts and tossing them at the judges.
Brittany S., 19 from Lake Forest, IL
Mothers, there are other names for your baby girls. There's Sharon and Linda and Sue – yes, a bit boring, but come on! This is the third Brittany/Brittney of the competition! This particular B-girl practices mixed martial arts with her cage fighter boyfriend and can only pose in a boxer's stance.
Susan, 23 from Canton, MI
The brain of the group, supposedly. She recently graduated from Harvard but can't name her favorite English lit heroine, despite being an English major. I think mommy and daddy need to demand their tuition money back.
Samantha, 18 from Woodland Hills, CA
A tanned, athletic girl who wants to represent health and fitness in her modeling career. However, she can't expect to turn the industry on its ear if she knows nothing about it. When she can't name five current models, Tyra launches into the first of many Ty-rades, lecturing the poor girl on the importance of doing her homework. Note to audience: these micro-speeches are just T's excuse to talk about herself ("Back in my day, we didn't have ANTM, blah,blah…").
Twenty girls advance to Phase II in which they participate in a photo shoot wearing metallic catsuits and posing with giant, inflatable silver bouncy balls. If this is the future, I want no part of it.
Samantha bugs out with the makeup, Marjorie gives good neck (get your minds out of the gutter), Brittany R. flirts her way through the shoot but forgets who she's batting her eyelashes at (Jay does not care), and Elina poses well with her hands. Lauren Brie and Analeigh strike some great athletic poses, the latter model reminding Jay of old school Claudia Schiffer. However, my fave has to be Sheena. She slides her clumsy behind on top of all three balls and expects perfect balance (man, that does not sound right).
After review by the judges, the twenty girls are whittled down to the Fierce Fourteen:
1. Sheena
2. Analeigh
3. Nikeysha
4. Marjorie
5. Samantha
6. Elina
7. Brittany R.
8. Brittany S.
9. Brittney B.
10. Hannah
11. Lauren Brie
12. Isis
13. Clark
14. Joslyn
Since all three B-girls make it through, Tyra asks two of them to change their names. I don't know whether to thank Tyra or slap her: Brittney B. becomes Sharaun and Brittany S. becomes McKey. What the…?
The finalists move into their beautiful L.A. Top Model House, outfitted with pool, Jacuzzi, and copious gigantic pictures of Tyra. They get acquainted, get catty, and get their first Tyra Mail: "Tomorrow, it's going to get really intimate in under a minute. I assure you it will be…magical. Love, Tyra."
The following day, the girls meet at The Magic Castle Hotel & Club, a Hollywood landmark and the world's most famous private club for magicians. Ed Alonzo, The Misfit of Magic, performs a couple of lame tricks before revealing his true purpose: introducing the girls to the judges for the day's challenge. Mr. Jay and Ms. J. parade across the stage as magician's assistants, pushing a large magic box. With a flourish, Ed throws back a curtain in front of the once-empty box to reveal drop-dead gorgeous, absolutely fine Nigel Barker, noted fashion photographer and former model – I need one of those magic boxes! Out of a second box steps supermodel Paulina Porizkova in a hot red dress. Each of the contestants has the opportunity to meet one-on-one with the four judges to prove their potential. Some make a great first impression (Isis, Samantha), while others don't (Sharaun is especially creepy and Marjorie's jangly nerves make me and Nigel uncomfortable).
That night, the girls receive a second Tyra mail: "Fashion isn't the only way to make a statement." Hint for the photo shoot challenge. The following day, the girls meet Jay and photographer Mike Rosenthal on set for the shoot with a timely theme: Voting is Sexy. The models are assigned different political themes for which they must transform themselves for the camera.
Marjorie: Immigration
Jay is impressed with her variety on set. Her awkward poses work well and look like they came straight out of the pages of a fashion editorial. During judging, Nigel brings up her nervousness and wants to see less of it (me too), but everyone else disagrees: Paulina sees a brain behind the face, Ms. J. loves her lines and angles, and Tyra describes her photo as "divine."
Brittany: Military
At first, Jay sees a little Vegas showgirl in some of her poses, but she eventually settles into the right feel for the theme. The end result is a shot that makes her look six feet tall, powerful, and confident.
Clark: Bureaucracy
Okay, this girl has no idea what her theme even means. She asks McKey to help her, but her competitor cleverly refuses to answer. Or maybe McKey doesn't know what it means, either. Clark's confusion shows through in the photo. Paulina thinks she looks like a Black Widow waiting to trap a man in her red tape web. Apparently, that's not a good thing.
McKey: Environment
She also struggles to translate her topic to film, so Jay suggests she find her sexy side by envisioning a sparring session with her boyfriend. What we get is weird shadow boxing that makes an interesting photo. But she better come with something new next time; this isn't "America's Next Top Streetfighter"!
Hannah: Nuclear Weapons
She doesn't know how she feels about nuclear weapons, but I'd love to know her opinion if she heard North Korea were aiming a long-range missile at Fairbanks.
Elina: Foreign Policy
She masters the "smiling with your eyes" technique and Jay is very impressed. The judges also love the pic.
Isis: Privacy
ANTM producers, we are not stupid. We get the message. I'm sure poor Isis doesn't want to be hit over the head with something she already loves with every day, but she knows what she needs to do to get to the top. Other girls pose in her shot, pretending to invade her voting privacy. Led by Sharaun, they make really nasty comments, but unfazed Isis keeps working it out.
Sheena: Energy
Jay, why bother trying to control the hoochiness when wardrobe puts the girl in a short, red sequin dress and gives her a gasoline hose to hold?
Joslyn: Unemployment
Actually unemployed Joslyn receives the best compliment from Jay: her work is "almost Tyra Banks hot."
Analeigh: Healthcare
Nigel doesn't get "healthcare" from the photo. What, Nigel? You've never seen a night nurse bending over a gurney in a black cocktail dress? Paulina sees the theme, but cautions her against turning away from her light source.
Sharaun: Homeland Security
The stiffness in her face and neck make Jay and Mike believe she's thinking way too much. In the final product, Nigel thinks she looks like she's chained to the airport metal detector rather than protecting the nation.
Samantha: Economy
Knocks it out the park in the first shot. Paulina thinks her look is reminiscent of "healthier" (read: "curvier") models from her decade. Tyra compares her to model Bridget Hall.
Lauren Brie: Education
Like Analeigh, Lauren Brie also experiences trouble following her lighting and casts a shadow over one of her eyes. Nigel warns her that if the audience doesn't see her eyes, we lose her message.
Nikeysha: Cloning
Through the magic of photography, Nikeysha is replicated in her picture to represent human cloning. Jay thinks she shows great variety in her body but little change in her face. Paulina hates the way her legs look and tries to offer advice, but Nikeysha keeps cutting her off with excuses. Then Tyra tries to offer advice and the girl does the same thing again. Bad.
After deliberations, the judges declare Marjorie the winner – don't second-guess yourself, sweetie. Her photo will be on display in the Top Model House for a week.
The bottom two: Sharaun for her phony persona and overconfidence during the one-on-ones, and Nikeysha for talking back to the judges and not openly accepting criticism. And the first casualty is Sharaun. Lesson to be learned, Kacey and Sharaun: Don't be haters!
Next Week: Obligatory Truth or Dare and hot tub make-out sessions, plus there may be racists in Alaska.
Your Daily Blend of Entertainment News
Thank you for signing up to CinemaBlend. You will receive a verification email shortly.
There was a problem. Please refresh the page and try again.