TV Recap: Big Brother 10 - Season Highs And Lows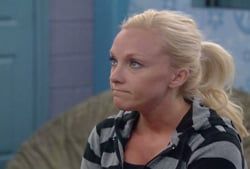 Instead of doing these pre-finale clip shows every season, I wish Big Brother would show us more of the jury house to give us a bit more to speculate on in terms of which way the houseguests are leaning in the votes. Sure, we'll get an abridged version of the Jury Q&A that took place this weekend during the jam-packed finale set to air on Tuesday night but I'd rather we get more of that and less footage of stuff we've already seen in previous episodes.
In addition to rerun clips including some of the fights, Keesha's disastrous Birthday party, Dan's hilarious chat with Renny about time zones, the infamous Brian puppet show and Jerry causing trouble with his name-calling, we also got to see some of the other shenanigans that the houseguests have engaged in over the course of the season.
It's understandable that goofing off would be high up on the to-do list in the Big Brother house. They have no TV, books (except for the bible), phone or internet so it makes sense that some of them might try to make their own fun. Earlier in the season the houseguests played make-believe by performing a late night talk show in their living room. This involved Dan hosting the event, sporting a fake mustache and some matching fake-chest hair as he interviewed various guests. Ollie took the role of a hippie guy and bragged about having numerous children with various women. And some of the girls (and Memphis) gave Angie a makeover. It's weird to see the houseguests having fun as a group considering all of tears and drama that would eventually erupt on an almost weekly basis.
Also among the unseen footage were Dan's pranks on Keesha. He describes his relationship with Keesha as that of a younger-brother/older-sister friendship. It makes sense as his idea of having fun with her involves putting ice down her back, dumping a bucket of cold water on her in the shower and jumping out and scaring her. Basically all the things a bratty brother might do to his big sister. Had Dan not constantly expressed his loyalty and adoration towards his girlfriend on numerous occasions, I might even have perceived his behavior as being a little bit flirty but the harmless kind that doesn't amount to much (unless you're in the 5th grade, in which case the rules are entirely different with the above listed social behavior).
Speaking of Dan, we got to see his Swim Club classes. This was something he did earlier in the season as a way to motivate Renny and Ollie to learn how to swim. Dan demonstrated his teaching skills admirably with his two students. He even gave them Fight Club-style rules for Swim Club and from what we were shown, he was successful in getting both Renny and Ollie to swim. Now if only he can help Ollie overcome his bird fear.
One of the things that stood out in the clip show was that Dan was a big source of amusement in the BB house this year. Memphis was not without a sense of humor as he was often seen sitting in the background snickering at the other people and he definitely got into the Late Night stuff but Dan seemed to put the most effort into finding ways to make himself and the other houseguests laugh.
This episode was almost entirely made up of filler, but since the season is drawing to a close, it was kind of nice to review some of the highlights from the season. As fun as it was to revisit the season, I can't help but go back to my earlier complaint. I feel like the BB producers could have made better use of the hour, perhaps by showing some more of the Jury footage and giving us a few clues as to which way the Jury is leaning. Of course I wouldn't want them to give too much away but it would be nice to get an idea of how they're basing their decisions. From what I understand, they separate the jurors immediately after the Q&A with the final two. So why not show us a bit of pre-questioning footage as a teaser for the finale? Oh well, I'm still looking forward to Tuesday night's finale and can't wait to see which of the Renegades the houseguests think deserves to win the half million dollar prize.
Your Daily Blend of Entertainment News
Assistant Managing Editor
Kelly joined CinemaBlend as a freelance TV news writer in 2006 and went on to serve as the site's TV Editor before moving over to other roles on the site. At present, she's an Assistant Managing Editor who spends much of her time brainstorming and editing feature content on the site.