TV Recap: Greek - The New Normal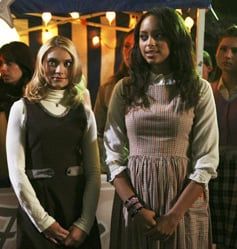 Greek is back! Oh how I love this show. Last summer I considered it a guilty pleasure but now that the second season is up and running, I'm coming out and saying it (again). I love this show! The new season picks up post-winter-break for the Cyprus-Rhodes gang. Rusty is still depressed over breaking up with Jen K., Casey's trying to be positive about her breakup with Evan and it seems Cappie and Rebecca's "fling" was more than just a one night stand.
One of the things I was most looking forward from the season premiere of Greek was seeing how things were going with Calvin. When last season ended, Ashleigh accidentally let slip to the Omega Chi guys that Calvin's gay. Calvin decided that rather than deal with the weird looks and awkward silence that ensued the second he attempted to discuss it with his "brothers," he'd be better off de-pledging. Evan wasn't there the day that Calvin left his pledge pin at the house and now he's trying to get Calvin to come back. He assures him that the guys were just surprised but that they're all cool with it. Evan later finds out (after actually addressing the issue with the guys) that this is not really the case. Some of the guys are creeped out by Calvin's sexual preference and aren't sure they want him around.
Rusty tells Calvin that any other house wouldn't care about his sexuality and if we were to use Kappa Tau as an example then Rusty's definitely right. When Calvin's Kappa Tau ex-fling decides to out himself to his brothers, none of them could care less. In fact, they're all just relieved that he's not mad because Beaver hit on his teenaged sister. So will Calvin decide to switch houses or is he going to wait it out to see if the Omega Chi's can get caught up on the whole tolerance thing?
Meanwhile, it looks like Rebecca and Cappie have been hooking up a lot over the break but it doesn't look like anyone knows about it. When Rusty tries to talk to Cappie about seeing him and Rebecca together before the break, Cappie lies and says it was just a one night stand. This is definitely not the case and its clear that there's a real connection budding between these two. Personally, I love the idea of seeing Casey and Cappie get back together but if the Cappie/Rebecca thing brings out a more human side to Rebecca (which it already seems to be doing), then I definitely think it's worth prolonging Cappie and Casey's inevitable reunion.
On to the ZBZ drama. Everyone is still mad at the ZBZ's because they were the ones who gave the Cyprus-Rhodes greek system a black-eye by letting Jen K. (aka the mole who aired a bunch of the greeks' dirty laundry in the school paper last semester) infiltrate their world and make a mess of things. ZBZ is also in hot water with the Zeta Beta nationals people for making all of them look bad. Nationals sent Lizzie (with two Zeta Beta Z's!) to work with them on helping improve their image. Lizzie, who I remember as the bubbly Delia Fisher from My So Called Life is just as bubbly (if not more so) as she was in MSCL. In fact, Lizzie's kind of over-the-top peppy and her by-the-book attitude about how Casey runs the sorority is beyond annoying.
Casey decides that despite the fact that the other greeks are annoyed with them right now, they're still going to do a kissing booth at the charity carnival. When she meets with the other greek presidents, Evan seems really cool about that and actually goes out of his way to be nice to her when the Tri-Pi chick tries to knock her ideas. Speaking of Tri-Pi's, I love that we're already getting to see more of them! Given the fact that they seem to have a pretty trashy reputation, I'm really hoping they're featured more in the show, if only to provide some drama between the sororities.
So the kissing booth thing almost turns out to be a bust when Lizzie forces the girls to dress extra conservatively. That added to the fact that no one wants anything to do with them, Casey was about to close up shop and consider the charity attempt a lost cause. Then Cappie, whose own booth nearly didn't happen due to Rusty's screwup (we'll get to that later) saves the day by bringing the Kappa's over to get their smooch on. The girls are taking turns kissing the guys and just as Rebecca is about to kiss Cappie, Beaver knocks him out of the way and steals a smooch. Rebecca seems annoyed but that's nothing compared to how she looked when Casey and Cappie share a kiss. She storms off and Evan, having seen the whole thing, approaches Casey and tells her he wants his letters back and that they're taking away her sweetheart title. He says this in front of everyone. Seriously? I mean granted, I get that he's pissed about her kissing Cappie (last semester and now again, tonight) but still – making a fool of her like that in front of everyone was just mean. He seemed to realize that though because we later see him drowning his sorrows and pouring his heart out to Rusty.
And speaking of Rusty, the guy is still seriously upset over the Jen K. thing. Seeing as she was his first real girlfriend, I can see how he'd be somewhat devastated over it. He ends up forgetting to come through for his brothers on some things he was supposed to do. Cappie tries to get him to get over her but when he finds one of Jen's ponytail holders in his room, he decides to bring it to her. Oops, turns out Jen K. has already moved on. She had some guy in her room and tells Rusty she thought it was over between them. Then she asks him to give her the ponytail holder. (He doesn't). While Rusty was off not returning the hair accessory, he was also busy not picking up the snow machine for the Kappa Tau's Yetti booth for the carnival. Cappie wasn't happy about that but as it's not like Cappie to ever get really mad, he gets over it and they find another way to make the booth work.
And that about covers it. From the previews, it looks like Frannie is back and going to make a play for Evan. Probably all part of her plan to get back at Casey. I'm wondering, with Frannie as the new rival, will the Rebecca/Casey feud soften? Or will Casey flip out when she finds out Rebecca and Cappie are moving on to the more-than-just-a-fling portion of their relationship?
Your Daily Blend of Entertainment News
Assistant Managing Editor
Kelly joined CinemaBlend as a freelance TV news writer in 2006 and went on to serve as the site's TV Editor before moving over to other roles on the site. At present, she's an Assistant Managing Editor who spends much of her time brainstorming and editing feature content on the site.