TV Recap: Las Vegas - A Cannon Carol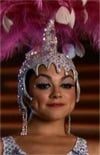 You know, if I never see another TV show based on the Scrooge concept, it'll be too soon. Unfortunately, I had to watch one tonight. It's like the writers say, ok, we can't come up with any original holiday storylines, so let's use that handy Scrooge one.
When Mike ends up unconscious on the floor of his office – a Christmas tree light incident gone horribly wrong – he's visited by three spirits. The Spirit of Christmas Past is a sparkly silver Sam with a penchant for slapping. She takes Mike on a walk down memory lane, when he was the only valet at the Montecito with a master's from MIT. But alas, he still doesn't think he's come very far.
The Spirit of Christmas Present is Piper in a showgirl outfit. With a considerably lighter touch than the first spirit, she shows Mike how important he is to the place. And it irks him greatly when he can't nab a pickpocket he sees on the surveillance cameras. Nope, can't do it. Still unconscious on the floor of his office.
Spirit No. 3 is a cute little girl – his granddaughter in the distant future. She reveals a happy Mike sitting at Danny's desk. Yep, he's president of operations. But yipes, his granddaughter makes a joke about her grandma being Sam! She's just kidding, though. Ha ha, very funny.
Meanwhile, Sam deals with a new whale named Linus who gets into the holiday spirit by pledging his $3 million to a new homeless shelter instead of gambling it away at the Montecito. But Sam's suspicious, and lo and behold, when she visits the place, she finds a grafter business scamming rich folks out of their cash. Still, she gets into the spirit by offering Linus a list of reputable charities. That's huge for Sam. He repays her by doing a bit of gambling.
Meanwhile, Danny's caught between a lingerie business and a tech company, trying to figure out what to put in a new retail space at the casino. But when he sees a guy proposing to his girlfriend, he has a flash of inspiration. An events store! The Montecito can be the place where big things happen for people.
Things end with Mike waking up and nabbing the pickpocket, and the staff opening presents from Cooper, only to find bowling shoes stuffed with big wads of cash. Nice.
Las Vegas will continue after the new year. With Delinda growing bigger and bigger, I'm guessing we can look forward to a baby episode or two.
Your Daily Blend of Entertainment News