TV Recap: The Office - Local Ad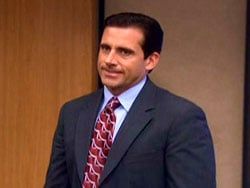 Well we're back to the regular 30-minute episodes of The Office and I'm ok with that. On tonight's episode, titled "Local Ad," Michael had the opportunity to get creative with the rest of the Dunder-Mifflin Scranton crew by putting together a TV commercial to advertise the local branch. While Corporate wanted Michael to go with the national ad and only alter the last few seconds, Michael had other plans.
After viewing the national ad, Michael sent the ad company people away and told corporate he's going to come up with his own commercial. He asked Phyllis to see if she can find any celebrities who happen to be visiting Scranton. Phyllis learned that mystery novelist Sue Grafton is signing books at the local mall and Michael promptly sent her off to convince Ms. Grafton to participate in the ad. He told her not to take no for an answer and apparently Phyllis took that literally because she returned from the mall crying and embarrassed after being thrown out of the bookstore when she wouldn't stop asking the author to do the ad.
Meanwhile, Darryl went to work on his keyboard trying to come up with a jingle. He actually came up with something good and with Kelly, Creed, Andy and Kevin singing backup, they performed a little ditty called "Dunder-Mifflin, the People Person's Paper People." It wasn't a rap though so Michael hated it. Ok, he didn't hate it. He just didn't like it at all and said it was terrible.
Pam stayed up all night working on the animated logo for the video and Michael also camped out at the office editing the ad so he could get it to corporate on time. They rejected it and went with the slightly modified national ad as they initially planned.
The gang went to Poor Richards to watch the ad air and Jim was kind enough to bring the DVD with Michael's version for them to watch as well. It was actually pretty good although I'm not sure "Dunder-Mifflin – Limitless Paper for a Paperless World" would be the best motto for a paper company. The ad once again hilariously showcased Michael's small-mindedness with Kelly being portrayed as an Indian woman in India, Stanley wearing prison coveralls and picking up trash on the highway and Phyllis playing Dwight's mother (as though she's old enough to fit the role). Michale, whose money problems must've gone away, celebrated by buying everyone a round of drinks.
While all of this was going on, Andy was trying to get past the "nuzzling" phase in his relationship with Angela. He went to Dwight for advice, still having no idea that he's twisting the knife in Dwight's heart. Things did turn around a bit for the beet farmer when Andy told him he finally made out with Angela (or technically kissed her while she refrained from kissing back). Obviously the kissing part didn't please Dwight. It was learning that Angela just sat there with her eyes shut saying "Oh, D!" Andy thinks D is him. Like An-D. Silly Andy. Dwight celebrated this news by repeating "Oh, D!" with Andy and laughing.
When he wasn't listening to Andy prattle on about his love life, Dwight spent most of the day playing Second Life. In the online video game, Second Dwight is exactly like the real Dwight except he can fly. So Dwight took solace in flying Second Dwight all over town. Jim started playing Second Life to spy on Dwight and appeared to have gotten a little bit hooked on the game himself. Pam teased him about Second Jim, whom she nicknamed Philly-Jim after learning that Jim made himself a sports writer in Philadelphia. She was impressed by the build of Philly Jim and the badass guitar he had slung over his shoulder. Jim looked sufficiently awkward by this but Pam thought it was adorable.
It should also be mentioned that throughout the entire episode, Andy was singing the Kit-Kat jingle because he couldn't remember what came after "Break me off a piece of that --"
We learned quite a few things about The Office characters tonight:
At five-years-old, Michael apparently still hadn't learned to speak.
Angela doesn't like being titillated.
Darryl has a decent singing voice.
Kevin's nickname in high school was Kool-aid man.
Jim's friends think Dunder-Mifflin sells mufflers, muffins or mittens.
Michael has plans for an cereal restaurant called Mike's Cereal Shack.
If you leave food out, Creed might eat it.
And that closes out this week's recap of The Office. The episode was funny enough to get me even more excited about this weekend. I, like so many other Office fans, am headed to Scranton for the first ever Office Convention. Scranton, PA, here I come!
That's what she said.
Kelly joined CinemaBlend as a freelance TV news writer in 2006 and went on to serve as the site's TV Editor before moving over to other roles on the site. At present, she's an Assistant Managing Editor who spends much of her time brainstorming and editing feature content on the site.
Your Daily Blend of Entertainment News
Thank you for signing up to CinemaBlend. You will receive a verification email shortly.
There was a problem. Please refresh the page and try again.