TV Review: Greek - On ABC Family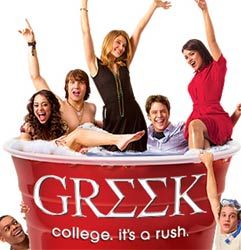 When I first heard that ABC Family was going to air an original series about college campus Greek life, I wondered how the "family" version of the ABC network would tackle a humorous and moderately realistic take on college life. Would they be able to portray Greek life without embracing the social debauchery that makes the cultish, organized socializing so appealing to young adults? I'm thinking; no, which is why it's a good thing the show doesn't try to do that. If there's one thing 'Greek' has going for it, based on the first episode, it's that it's actually a pretty funny show.
Off the bat, I'm going to toss aside any comparisons one might try to make between this new series and 'Undeclared.' Its way too soon to even attempt to rank 'Greek' up there with the hilarious but cancelled Judd Apatow series. That said, shows that cleverly portray the crazy world that is college are few and far between but 'Greek's' creator, Patrick Sean Smith is definitely on the right track.
The show begins with a clueless freshman engineering major named Rusty (Jacob Zachar), who quickly realizes that if he's going to be able to enjoy the four years he'll be spending at Cyprus-Rhodes University, he needs to spend less time with the nerd-squad and see if there's a fraternity that will accept him. Despite his naivety, Rusty proves to be a pretty solid guy. In addition to his dorky charm, he also happens to be the younger brother of Casey (Spencer Grammer), a beautiful, popular girl who aspires to become the president of her sorority.
At the beginning of the pilot episode, its evident that Casey doesn't want to be associated with her nerdy younger brother but as time goes by, she and Rusty begin to see that in sharing the college experience, they might actually be able to become friends. I know that sounds incredibly corny and there were a couple of moments that came dangerously close to cheesiness but the humor of the show stands out enough to compensate for the occasional touchy-feely moment.
Also among the leading characters are:
Evan (Jake McDorman) - Casey's dreamy alpha-male boyfriend. The show could've drawn Evan as a typical one-dimensional frat a-hole but despite his flaws, there does appear to be a side to him that might actually feel remorse for his occasional misdeeds.
Cappie (Scott Michael Foster) – Cappie is head of the slacker fraternity. He's got the scruffy-cute thing going on. He also happens to be Casey's ex-boyfriend. Casey looks at the relationship as somewhat of a mistake while its evident that Cappie's still not over her.
Calvin (Paul James) – Calvin befriends Rusty while the two began rushing fraternities and it's he who helps Rusty come out of his shell a bit. Speaking of coming out, while Calvin isn't quite out of the closet, it's pretty evident that he's on his way.
Rebecca (Dilshad Vadsaria) – Rebecca's the daughter of a Senator which makes her a campus celebrity. She appears prim and proper when out in public but the truth is, she's a total party girl and quickly becomes Casey's rival.
Ashleigh (Amber Stevens) – Ashleigh's Casey's best friend and when she's not partying, she's doing her best to keep Casey on track, though I'm not sure her advice is all that valuable sometimes.
Dale - (Clark Duke) – Dale is Rusty's roommate. He's also part confederate-flag-loving uber-conservative southern Christian and part nerd. He actually serves a purpose though. When he's not vocally disapproving of Rusty's desire to party and enjoy college, he does have a few wise words to offer.
All in all, I'd say 'Greek' is worth watching. There are some laugh-out-loud moments and a fair amount of interesting character arcs that could play out well.
I think this series is probably going to appeal more to teenagers but there's a humorous side to it that makes it enjoyable for grown-ups as well. There's a lot of implied sexual content and plenty of underage drinking which makes the series less of a family comedy than one might expect given the network that's airing it. I have no complaints there but I would advise parents to check out the pilot episode before allowing their kids to watch it.
'Greek' will premiere on ABC Family on Monday, July 9 at 9:00 p.m.
The pilot episode is currently available to download for free on iTunes.
Kelly joined CinemaBlend as a freelance TV news writer in 2006 and went on to serve as the site's TV Editor before moving over to other roles on the site. At present, she's an Assistant Managing Editor who spends much of her time brainstorming and editing feature content on the site.
Your Daily Blend of Entertainment News
Thank you for signing up to CinemaBlend. You will receive a verification email shortly.
There was a problem. Please refresh the page and try again.