TV Review: Legally Blondes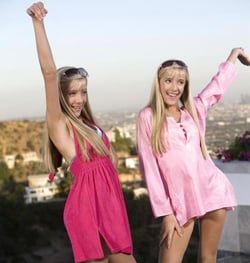 I've seen the original Legally Blonde film more times than I care to admit. I could say the same for the sequel, Red, White and Blonde, however I've actually only seen that one once (and that was one time too many). Still, as a fan of the original, I was curious to see what this made-for-TV installment would bring to the franchise. After screening the film, I'd have to say that it's a lighter, fluffier version of the first, borrowing some of the same premise and multiplying it by two as we're introduced to Elle's cousins, twins Izzy and Annie.
Legally Blondes follows Annie and Izzy Woods. Cousins to Elle Woods (Witherspoon's character in the first two films), these high school girls have traveled from England to attend a prestigious prep school in Los Angeles. It is the same fictional school where Elle once attended, prior to going off to college and the girls are eager to follow in Elle's footsteps, aspiring to become top barristers (that's British for lawyer). While Elle doesn't make an appearance in the film, she's there in pink-spirit as Izzy and Annie are staying at her girlishly decorated house with their father while Elle's off in DC lobbying.
The story follows Izzy and Annie as they attempt to fit in among the rich prep-school kids and inevitably fail to conceal the fact that they're there on a partial scholarship. While they may come off as being ditzy blondes with keen yet thrifty fashion senses, these girls have more to offer than some advice on how to "dress around" the school dress code. Their legal-smarts and fashion sense come in handy when one of the girls and another student are accused of cheating. Enter the big Encyclopedia Brown-esque mystery, which must be solved in order for them to avoid expulsion.
As I said, think Legally Blonde-light here. While the original film follows a young woman who goes to Harvard to reclaim her man and ends up finding herself, this sequel is more about two sisters pulling together to support each other against a bratty heiress who doesn't like the two new pretty blonde girls who threaten her popularity. Like so many other movies ABC Family unleashes, this one is pretty predictable and nothing that'll really move you emotionally but it does have its moments. It's good summer fun, with throwbacks to the original including a modified version of the "bend and snap" ("the flip and wave") and some random moments like a truly bizarre scene involving two trampolines. It'll most likely appeal to tweens and is at the very least, tolerable for parents looking to spend some quality time in front of the TV with their kids this Sunday night. (And for parents with younger kids, this movie's family-friendly.)
Legally Blondes
Starring: Becky Rosso, Milly Rosso
Premieres: Sunday, August 2 (8:00PM – 10:00PM ET/PT) on ABC Family
Kelly joined CinemaBlend as a freelance TV news writer in 2006 and went on to serve as the site's TV Editor before moving over to other roles on the site. At present, she's an Assistant Managing Editor who spends much of her time brainstorming and editing feature content on the site.
Your Daily Blend of Entertainment News
Thank you for signing up to CinemaBlend. You will receive a verification email shortly.
There was a problem. Please refresh the page and try again.