Talking Dead And Other AMC Unscripted Shows Renewed, Summer Premiere Dates Set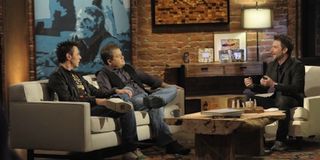 In addition to the big announcement today on the highly anticipated premiere date for Breaking Bad and its new companion series, Talking Bad, AMC had plenty more news to share in the upfronts. Deadline says that includes summer premiere dates for a number of new and returning shows, some renewals including Talking Dead, and some new projects in development.
Let's start with the renewals. Months after giving The Walking Dead its fourth season renewal in December, its after-show, Talking Dead has been confirmed for Season 3. Also renewed are Kevin Smith's Comic Book Men for a third season, and Todd Ray's Freakshow will get a second season.
AMC also provided a list of both unscripted and scripted series added to the development slate. On the unscripted side, there's Majority Rules, a look at grassroots politics, All-Star Celebrity Bowling, which promises a tongue-in-cheek approach to the genre, and Cancelled, which will allow 6 families to create their own reality show and compete to see whose real life makes the best television.
New scripted projects in development are futuristic cop drama Ballistic City, King, which is a 60s period drama focusing on politics and civil rights, Ashland, a 50's drama that takes place in a small mining town, White City, which follows diplomats and journalists in Afghanistan, The Wall, another 60s-set drama this time set in Berlin, and two untitled projects. One comes from Mad Men's Dahvi Waller and is set in the automobile industry during the 1920s. The second comes from Flash Forward's Tim Lea and takes place in the near future where a second American Revolution is a real possibility.
Finally, AMC brought us a list of summer premiere dates, including Low Winter Sun, a new drama starring Mark Strong. Here's a run-down of what will premiere and when:
Thursday, May 9th:
Smalltown Security, 10 p.m. EST
Thursday, May 23rd:
Showville, 9 p.m. EST
Sunday, August 11th:
Breaking Bad, 9 p.m. EST
Low Winter Sun, 10 p.m. EST
Talking Bad, 11 p.m. EST
Thursday, August 15th:
Owner's Manual, 9 p.m. EST
The Pitch, 10 p.m. EST
Your Daily Blend of Entertainment News
Thank you for signing up to CinemaBlend. You will receive a verification email shortly.
There was a problem. Please refresh the page and try again.