Tegan And Sara Will Perform In 90210's Christmas Episode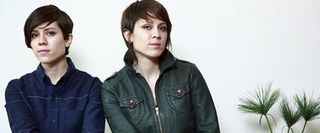 The CW is known for featuring some pretty kitschy plotlines. My favorite recurring plotline across various CW shows is when a semi-famous band will show up to play a dance, a festival, or other event that brings the characters together. 90210 will be jumping into the trend with a little bit of holiday cheer this season. Tegan and Sara will be joining the hit show to perform around the holidays.
Tegan and Sara are joining the teen melodrama to perform during Season 5's Christmas episode. The band is more known for heart-wrenching music like "Walking with a Ghost" and "You Went Away," the latter of which appeared on one of the Grey's Anatomy soundtracks. It'll be interesting to (hopefully) see what Tegan and Sara can do with less emotionally charged and more holly jolly music during the band's guest stint on the show. According to TV Line, the band's performance will appear in an episode in early December.
While the gals are probably more known for having their music appear on shows, Tegan and Sara have done gigs on television in the past. The most memorable of these was probably an episode of The L Word called "The Last Dance," where the band appears in a flashback in an segment that is probably more known for a funeral. As I said, the band really knows how to make an emotional impact. I'm really, really hoping the Christmas episode will be less emotionally charged. It would be a nice change-up for the season filled with mass-marketed cheer.
Your Daily Blend of Entertainment News