Tepid Oscar Telecast Nets Tepid Ratings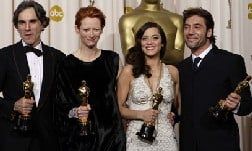 Last night's Oscar telecast, which was dominated by Europeans few people have heard of winning for movies few people have seen, wasn't exactly a ratings bonanza. Shocker. In fact, the 80th annual Academy Awards is on its way to being the lowest-rated Oscar presentation ever. While complete Neilson ratings are not in, the Oscars reportedly dropped viewers steadily each half-hour it was on the air, starting with 32.3 million at 8:30 EST and ending close to midnight with 25.4.
None of last night's acting statues went to the A-List American actors that people generally tune in for. Instead of Brad and Angelina, we had Marion Cotillard and Javier Bardem. While they are both talented and hot, their respective movies didn't exactly bring in the big bucks at the box office. Bardem's No Country For Old Men, which also won Best Picture, grossed less than $60 million in theaters. Cotillard's Le Vie En Rose only made a paltry $10 million.
While second-time host Jon Stewart netted generally positive reviews for his return, he has now hosted two of the three lowest-rated Oscars in history. Unfortunately, this probably means that the Academy isn't going to be offering Stewart a chance for a third go-around. While Stewart can't be blamed for the show being such a snooze-fest, he probably should have anticipated a tepid telecast and come prepared—with alcohol. Because seriously; if everyone there was as drunk as Jack Nicholson, we would have had a damn good show on our hands.
Your Daily Blend of Entertainment News
Your Daily Blend of Entertainment News
Thank you for signing up to CinemaBlend. You will receive a verification email shortly.
There was a problem. Please refresh the page and try again.