There's A Japanese TV Show About A Girl With A Horsehead, Check It Out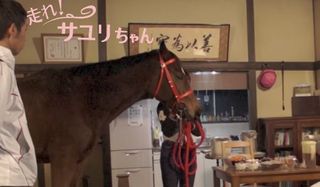 We know Japan gets up to some weird stuff on TV. Most of this has to do with the country's collective love for game shows, which have gotten odder and more outrageous over time. However, apparently some of the nation's original series have also taken to the trend of outrageous programming. The latest is Umabi and Nippon TV's Hashire! Sayuri chan, a show about a college girl with a horsehead and a human body, along with her totally human friends. You can check out the cast of the new drama, below.
If you need some backstory on Hashire! Sayuri chan--and you really, really do—the series follows your average girl with a horse for a head. She's the byproduct of a father who is a racehorse (this explains why horse website Umabi is involved) and a human mother. The show seems to be about acceptance, and the girl does the usual activities college girls in Japan get up to, like hanging out with boys and running around in the sunshine (this doesn't seem like a show that'll have much Netflix and chilling going on).
The show's been made available since November 27, and four episodes of the series are online. Like a lot of web shows, Hashire! Sayuri chan is pretty short, running at only 13 minutes apiece. Dramafever reports the episodes have been pretty popular and we can see why. But you should really check out this action-packed and glorious footage for yourself.
If you'd like to see some more scenes from the set, including one young Japanese male giving the horse girl what looks to be a smooch, or a sort of nuzzle… it's hard to tell. Anyway, you can check out the very real footage that proves this stuff exists, below.
Japan is a place with unique TV programming. It's a place where bears have attacked real people who are hanging out in boxes for TV and where male karaoke contestants have been distracted by handjobs, also for TV. The world is a strange place, and a girl with a horsehead only begins to scratch the surface.
Reality TV fan with a pinch of Disney fairy dust thrown in. Theme park junkie. If you've created a rom-com I've probably watched it.
Your Daily Blend of Entertainment News
Thank you for signing up to CinemaBlend. You will receive a verification email shortly.
There was a problem. Please refresh the page and try again.