Top Gear Rolling Into BBC America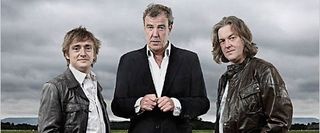 In a press release today BBC America announced that its automotive hit, Top Gear, will be pulling into American living rooms next month. Now in its seventeenth season, the series has drawn in viewers from around the globe with an entertaining combination of vehicular stunts ranging from silly to just plain crazy, cars that vary from the cheapest jalopy up to the most luxurious ride, and the opinionated commentary of the three hosts.
Jeremy Clarkson, James May, and Richard Hammond are the three stars of the show, but will be joined in season 17 by such guest stars as Rowan Atkinson and Formula 1 champ Sebastian Vettel for the popular segment, "Star in a Reasonably Priced Car." The hosts will throw a birthday party for the Jaguar E-class, which hits the grand old age of 50 this year, that rivals the royal wedding, take a ride through Death Valley and hit the Vegas strip, and drive the Monaco Grand Prix circuit.
Top Gear has stayed on top of its game with the kind of pull-no-punches attitude that has brought in a slew of fans as well as a good number of critics. In spite of earning some criticism for racist and homophobic comments, the series has won both BAFTA and Emmy awards and continues to draw in new fans. Although host Jeremy Clarkson has complained in the past that the BBC doesn't take the show seriously, the BBC America premiere this August proves the British network is taking the show to new audiences -- and closer to the fans the show already has Stateside.
Top Gear premieres on BBC America on Monday, August 22nd at 9:00 PM ET/PT.
Your Daily Blend of Entertainment News