The Two Best Fuller House Jokes About The Olsen Twins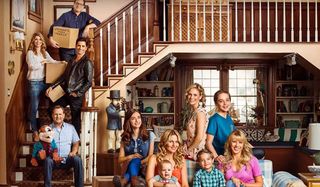 Fuller House kicked off this weekend with plenty of notice, presenting 13 episodes that were sometimes silly and filled with dance montages, sometimes heartwarming, occasionally tone deaf and often exactly what we wanted the series to be. One of the coolest things Fuller House established was a (brand new for the series) meta way of breaking the fourth wall, and this led to some clever jokes about none other than the Olsen twins. If you want to find out exactly what happened with the two best snarky comments, you can check them out, below.
The Premiere Shade
The premiere episode of Fuller House offered most of the cast an awesome opportunity to reunite in a familiar setting. The keyword here is "most." Obviously, we've known for months that the Olsen twins declined the opportunity to return, and John Stamos and others haven't been particularly gracious about it. During the premiere, Danny Tanner mentions that Michelle won't be able to make the family's upcoming party, because she's too busy "in New York, running her fashion empire." After which, the entire cast breaks the fourth wall and gives the audience the above glare. You gotta love it. We certainly do.
The High End Fashion Insult
In Episode 7, Kimmy's daughter Ramona is celebrating her 13th birthday with a perfect day. Her mom even buys her a dress from Elizabeth & James, a high-end fashion brand that was founded by none other than Mary Kate and Ashley Olsen. After looking over the receipt for the wildly expensive dress, Kimmy directly comments, "At these prices, no wonder they don't need to act anymore." That joke is also pretty close to the real reason the Olsen twins decided not to be a part of the show.
We knew in advance that Fuller House was going to address Michelle's absence, and it's not particularly surprising that the show decided to do so with a few well-timed and cutting jokes. However, it really could have been worse for the former child actresses. In fact, there was another Olsen twins joke that ended up getting cut from the final draft of the series.
Apparently, there is unaired footage from the Fuller House pilot meant to be a part of the scene where Danny Tanner talks about Michelle's fashion empire. Apparently, Uncle Jesse was going to be on the phone as the cast continued to talk amongst themselves. We hear him say, "One episode!" Then, he jokes about talking to the "twins' lawyer." The joke might have been a little too meta to even fit in with the other jokes, but I'm glad we know it exists nonetheless.
If you haven't given Fuller House a watch yet, it's already available for binge-watching. Catch all episodes over at Netflix and see what else the streaming service has coming up, here.
Reality TV fan with a pinch of Disney fairy dust thrown in. Theme park junkie. If you've created a rom-com I've probably watched it.