Two And A Half Men Going Back Into Production Starting February 28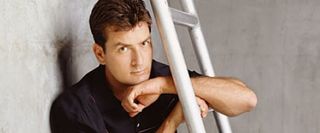 Two and a Half Men has been hiatus for several weeks while Charlie Sheen undergoes rehab for a whole litany of substance abuse problems, but the circus surrounding this break has, depending on who you ask, been a lot more entertaining than the show itself ever was. Between Sheen calling into a radio show to basically threaten that they need to put him back to work before his next bender, and the show's creator Chuck Lorre striking back through vanity cards on television, it's a wild couple of weeks, even for those of us who immediately turn off any TV that happens to be showing Two and a Half Men.
But alas, the fun and games, and Sheen's going-through-the-motions rehab, couldn't last forever. Deadline reports that the show will back into production on February 28, with four shows scheduled to shoot through the end of March. That's still four short of the 24 episodes they're supposed to hit this season, and it's unclear when they'll wrap up those four, or how Sheen's behavior may or may not improve by getting back to work. Given that he has been openly hostile to the notion of rehabilitation, and even suggested on that radio show appearance that sobriety is anathema to his entire being, there's no reason to expect it'll go that well this time around either. So, in some ways, the sad circus that is the rich, over-indulged Charlie Sheen moves ever onwards.
Staff Writer at CinemaBlend
Your Daily Blend of Entertainment News
Thank you for signing up to CinemaBlend. You will receive a verification email shortly.
There was a problem. Please refresh the page and try again.