Tyler Perry's Meet the Browns Becomes a Sitcom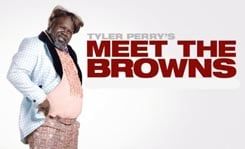 Tyler Perry clearly has the "it" factor that everyone is always talking about. Everything he does is golden, and one thing seems to multiply in ten directions. Since his show House of Payne is "ad-supported cable's most-watched original sitcom ever" , I guess TBS decided they could gamble on him and give him another show.
Hollywood Reporter reports that TBS has picked up a television series based on Leroy Brown, a character from Perry's movie, Meet the Browns. "Browns" stars David Mann as Leroy Brown, a character who was in Perry's film this year as well as in several episodes of "Payne." The new sitcom will begin after Brown inherits a dilapidated house from his deceased father. Perry might cameo in one episode as his ubiquitous character Madea, who appeared in "Browns." Meet the Browns premiered back in March, and made well over $40 million in the US. Of the film cast, only David Mann, and his real-life wife Tamela Mann (who played Madea's daugther) will appear in the television version.
At this point, Meet the Browns has only been give 10 episodes, and they will begin to air in January of next year. The half hour episodes will air two at a time in a one hour block for five weeks. (That's a lot of numbers for one sentence!) Don't despair, though, because that's exactly how House of Payne started too. With Tyler Perry's golden hands in the mix, it's almost guaranteed to fly.