USA Ditches Dead Zone, The 4400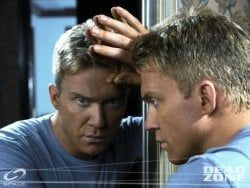 There are two USA series that probably won't be showing up on NBC's patented writers strike freakout schedule anytime soon: both The Dead Zone and The 4400have been canceled. While neither show was a real ratings bonanza, the cancellations nevertheless came as a shock. Such a shock in fact; that what turned out to be the series finales of both shows aired back in September.
At a time in which scripted programs are few and far between and new reality shows like NBC's Clash of the Choirs are tanking in the ratings, it seems counterintuitive to get rid of anything that a network already has—especially when it's a show that has as low of a budget as these two very clearly (and painfully) do. However, with no episodes of either series in the can, there's not a lot they could do to help USA, or its sister channel NBC's strike-ravaged schedule.
USA Executive VP of Original Programming, Jeff Wachtel, says of his network's decision, "We wish we could keep all our great shows alive forever. But we feel we need to give some of our new shows a platform to grow, and it's with great sadness that we say goodbye to two shows that had a great run and helped create the resurgence of original programming on our network and on all of cable."
Fan petitions are already being circulated to save The 4400, but I wouldn't count on a Jericho-like fan resurrection. Although The Dead Zone brought a buff Anthony Michael Hall back into the spotlight, the argument can be made that the whole "coma-patient seeing into the future" story has been taken as far as it can go. So is USA acting rash in shooting its birds in hand, or have these shows simply run their course? Feel free to post your reactions below.
Your Daily Blend of Entertainment News
Your Daily Blend of Entertainment News
Thank you for signing up to CinemaBlend. You will receive a verification email shortly.
There was a problem. Please refresh the page and try again.