VMA Performances Shock, Awe, Embarrass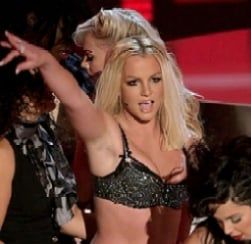 MTV's Video Music Awards haven't really been about Videos, Music or Awards for quite some time. Instead, they're all about the performances. This year's show featured, among others, Chris Brown, Kanye West, Fall Out Boy, and Britney Spears—with various, yet predictable, degrees of success.
Shot in MTV's signature hyperactive style, the awards show jumped back and forth between the main stage, the Hugh Hefner suite at The Palms (this was the VMA's first year in Vegas), and various parties, creating a confusing hodgepodge of images that was nearly impossible to follow. While most acts turned in solid performances, there were two standouts of the night: Chris Brown and Britney Spears.
Brown and Spears represented the absolute best and worst that MTV has to offer. While both performances relied heavily upon lip-syncing, anyone watching the show would be hard pressed to fault Brown for availing himself of pre-recorded material. His five-and-a-half minute performance was a medley that combined a little bit of Charlie Chaplin with Michael Jackson and a basic defiance of gravity that brought the house down and awed even top performers. While accepting the Male Artist of the Year award, Justin Timberlake said to Brown, "Nobody likes to be reminded that they're getting older. Whatever Chris Brown just did reminded me that I'm getting older 'cause, damn."
The other performance that left viewers agog, but for completely different reasons, was Britney Spears' big "comeback." Knowing that people love train wrecks, MTV decided to have Spears open the show with her new single, "Gimme More." It would be rude to compare Britney's performance to that of a tired stripper with glazed-over eyes working the Wednesday 11am-6pm shift at a club by the truck stop, teetering across the stage in too-high heels while a lit cigarette hangs out of the corner of her mouth, leaving a trail of ashes in her wake—so I won't. Let's just say that it probably would have been a good idea to spend some time dancing in those boots instead of partying until 4 in the morning every night.
All of the highlights and lowlights of yesterdays show, along with the list of winners can be found on MTV's VMA page. The video of Britney's "comeback" is here.
Your Daily Blend of Entertainment News