A Very Gaga Thanksgiving Preview: ABC's Promo For Lady Gaga's Thanksgiving Special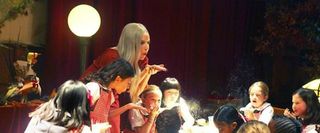 Thanksgiving. A festive holiday where everyone gets together for a little family and food as well as noting those special things they are thankful for over the last year. It's such a lovely idea for a holiday and, without a doubt, the first thing that comes to mind when you think of the celebration is Lady Gaga. Right? Okay, so maybe she's not the first thing that comes to mind but for some reason she's throwing a big televised bash called A Very Gaga Thanksgiving.
Now, I don't want to sound like a curmudgeon when discussing the one (non-secular) day a year where we're supposed to throw away our cynicism and deliver our sincere thanks but I just don't see the connection between the pop-princess and the turkey based festivities. Maybe she has a new turkey-dress to showcase? Anyway, whether or not the special makes sense doesn't matter, it's coming to televisions across the nation and offers the ladies (and gentlemen who don't dig the pigskin) an alternative to the NFL Football tradition.
The only question that remains is... What can you expect from A Very Gaga Thanksgiving? Well, ABC has released a little preview of the celebration to air this Thursday night and it doesn't only feature Gaga singing (although, there will be plenty of that) but also a few big name guests stars who will be stopping by including; Tony Bennett, Katie Couric (who appears to conduct a little interview of her own - and shockingly it produces tears) and Chef Art Smith. Take a look at the preview and then ask yourself this question, what's Thanksgiving without a little Gaga?
A Very Gaga Thanksgiving airs Thursday, November 24th at 9:30pm ET on ABC. Oh, and if you're curious what we're thankful for, here are a list of some movie and TV (opens in new tab) related items. Happy Thanksgiving.
Your Daily Blend of Entertainment News
Thank you for signing up to CinemaBlend. You will receive a verification email shortly.
There was a problem. Please refresh the page and try again.