Video: Sean Bean Is Prepared To Die In TNT's Legends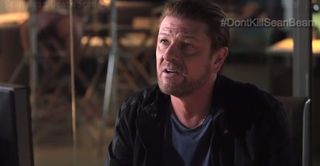 "Sean Bean dies" is a spoiler, but if you're asking what it's a spoiler for, there are multiple answers, as Sean Bean has developed a reputation for playing notable characters who are picked off on screen. TNT seems well aware of that, as they've been promoting their new drama Legends with the hashtag #DontKillSeanBean. And that includes the above Funny or Die video, which shows that Sean Bean's not likely to be unprepared for his character's death.
To argue that Sean Bean couldn't possibly be killed off in Legends because he's the star of the show has merit. But I mean, it wouldn't be the first time. The Funny or Die video shows Sean Bean reviewing the script for Legends, trying to figure out when his character will die. Could it be piranhas or maybe some poison on the keyboard? Maybe a belly full of acid will get the job done? Sooner or later, he just has to die, right? And sure enough, they write it in. And a dude shows up with a crate full of piranhas.
As mentioned, TNT's been playing up the "Sean Bean dies" angle with their promotions for Legends. When we were at Comic-Con last month, TNT had a massive hotel-sized billboard showing off the numerous faces of Martin Odum, Sean Bean's character. The artwork included #DontKillSeanBean:
Legends premieres Wednesday, Augsut 13 at 9:00 p.m. and stars Bean as deep cover agent Martin Odum, a man who's trying to reconnect with his wife after his last assignment when he's once again called back in to go under cover. At some point in the first episode, Odum will be approached by a mysterious stranger who tells him that the reality of his life may not be as real as he thought. And then he dies. Kidding (hopefully). The series is based on a novel by Robert Littell and developed by Howard Gordon. In addition to Sean Bean, the cast includes Ali Larter, Morris Chestnut, Tina Majorino, Steve Harris, Amber Valletta and Mason Cook.
Check out the previously released trailer for Legends on the next page...