WWE's Tribute To The Troops Will Feature Kid Rock, Flor Rida, And The Muppets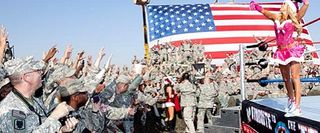 The WWE's annual holiday tribute to the troops will air on both USA and NBC this December, marking the 10th consecutive year that the wrestling federation puts together a special honoring the armed forces. WWE Tribute to the Troops is slated to air as a two-hour special on USA, home to the weekly show WWE RAW, on December 19th at 9 p.m. ET. It will also air on NBC on December 22nd at 9 p.m. ET. This year's show will feature Kid Rock, Flo Rida, and The Muppets along with the WWE's wrestling stars, making for an interesting mix of entertainment.
The show will be performed live for an audience of military personnel along with their families at the Scope Arena in Norfolk, VA. Along with the musical performances, audiences will get a look at WWE Chairman Vince McMahon's holiday visit to the troops overseas, where he is accompanied by a group of WWE performers; Superstars The Miz, R-Truth, and WWE Divas Eve and Layla. McMahon announced the 10th annual tribute:
The tribute special has featured a number of big names in music over the years including Mary J. Blige, Nickelback, and Trace Adkins. This year's choice of performers is pretty eclectic. I have no trouble seeing Kid Rock fitting right in on stage with WWE types, and Flo Rida is an good contrast to Kid Rock's image, but I am a little uncertain how The Muppets fit in. Perhaps that's why McMahon can say it's family entertainment, since neither of the two performers is particularly known for their kid-friendly music. No doubt they'll keep it clean for the special, since it's airing on both a cable network and a broadcast one.
Your Daily Blend of Entertainment News
Thank you for signing up to CinemaBlend. You will receive a verification email shortly.
There was a problem. Please refresh the page and try again.