The Walking Dead's Gale Anne Hurd Developing Sci-Fi Period Drama For USA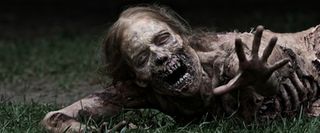 Gale Anne Hurd has been serving as one of the executive producers of The Walking Dead since the AMC zombie drama premiered in 2010. Today USA announced that Hurd is developing a genre pilot, which has no zombies, but may include aliens. Not only will there be a sci-fi element, but the pilot is also a period piece, set during the second World War.
USA announced today that they've given a (cast contingent) greenlight to Gale Ann Hurd's first new pilot Horizon. The project is set during World War II and follows a secretary at the FBI who begins to learn that her husband's death may have occurred during a battle with a spaceship in the South Pacific. "Obsessed with learning the truth, she becomes the only person standing between Earth and an alien invasion."
It certainly sounds like an unusual premise, when considering the WWII setting, the mystery element and the aliens. And it sounds nothing like anything else USA has going on right now. These days, cable channel typically sticks to more grounded dramas and dramedies, offering up lighter fare by comparison to some of the other cable channels. USA's announcement points out that this is the first genre project in the works since The 4400, which ended in 2007. Perhaps the timing is right for the channel to explore sci-fi again. If Horizon goes forward, it may attract some of the viewers who appreciate other cable genre shows like The Walking Dead (AMC), Falling Skies (TNT) and American Horror Story (FX), all of which deal with sci-fi/supernatural stories. Hurd's involvement with The Walking Dead, a hugely successful cable series, likely adds to the appeal of the project for USA.
While we wait for further news on Horizon, USA viewers have more Suits, Burn Notice, White Collar, Royal Pains and Covert Affairs on the way, not to mention the network's upcoming new summer series Graceland.
Your Daily Blend of Entertainment News
Thank you for signing up to CinemaBlend. You will receive a verification email shortly.
There was a problem. Please refresh the page and try again.