The Walking Dead Season 2 Premiere Breaks Ratings Records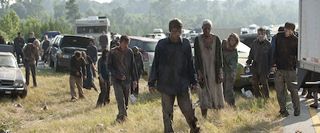 In good but unsurprising news, AMC's premiere of the second season of The Walking Dead did very well in the ratings last night, topping its first season premiere by a fair margin and breaking basic cable records in the 18-49 and 25-54 demos.
AMC kicked off the second season of The Walking Dead last night with an hour-and-a-half-long episode, which was watched by a total of 7.3 million viewers for the premiere, according to Deadline. Factoring in the encore presentations which aired after, and the zombie drama took in 11 million viewers for the night. In earning 4.8 million viewers in adults 1849 and 4.2 million among adults 25-54, the series' second season premiere beat the record set by USA's The Dead Zone in June 2002 for both demos. The series also managed to beat out its own series premiere with a 38% increase in viewers.
For a season premiere, The Walking Dead wasn't perfect, but it did deliver some fantastic moments, including the much anticipated highway scene, which had the characters hiding under cars and trucks while hoards of zombies staggered past. And we were left with a cliffhanger that will surely have people eagerly anticipating next Sunday's episode.
The premiere was followed by the talk show Talking Dead, which featured Chris Hardwick, along with guests James Gunn and Patton Oswalt as they discussed the show. Robert Kirkman was also present via satellite from NY Comic Con to talk about the series. Deadline reports that the Talking Dead episode earned itself 1.2 million viewers. My guess is that it would've done even better, had it aired immediately following the first airing of the season premiere, but still, 1.2 million is fairly impressive given that it aired after midnight.