Warner Bros. Brings Iconic Looney Tunes To Blu-Ray For The First Time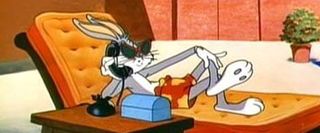 Geico's been throwing Foghorn Leghorn's ridiculous narratives in my face for well over a year with its deftly humorous commercial. Yet, with fewer channels interested in playing Looney Tunes reruns in past years, I've been bereft of Leghorn and crew for well longer than that. Lack of Looney Tunes really is a sad way to treat some of Warner Bros.' most iconic characters.
Luckily, Warner Bros. is about to change its Tunes, by bringing 'em to Blu-Ray. Warner Bros. Senior VP George Feltenstein has announced the studio will release the Looney Tunes Platinum Collection: Volume One in November. For the first time ever, 50 of the Looney Tunes best and brightest episodes will be enhanced for high definition.
There will be two options with the Volume One set: a standard digibook version and an Ultimate Collector's Edition. Both sets will contain two discs full of episodes, and a third disc chock full of bonus features. However, the Ultimate Collector's Edition will be dressed to the nines. Running at $79.98, each set will be numbered for exclusivity, and will come with a 52-page color book. Other extras with the nicer set include a character shot glass, a tin magnet, and a certificate of authenticity. Apparently Warner Bros. expects everyone to be as excited about this as I am.
A first volume always leaves room for a second and a third. If you really are excited about the Looney Tunes on Blu-Ray, I'd keep my eyes peeled for more announcements in the future. Until then, check out the specs for Volume One, below.
Disc 1
Hare Tonic
Baseball Bugs
Buccaneer Bunny
The Old Grey Hare
Rabbit Hood
8 Ball Bunny
Rabbit of Seville
What's Opera Doc?
The Great Piggy Bank Robbery
A Pest in the House
The Scarlet Pumpernickel
Duck Amuck
Robin Hood Daffy
Baby Bottleneck
Kitty Kornered
Scaredy Cat
Porky Chops
Old Glory
A Tale of Two Kitties
Tweetie Pie
Fast and Furry-ous
Beep, Beep
Lovelorn Leghorn
For Scent-I-Mental Reasons
Speedy Gonzales
Wagnerian Wabbit: The Making of "What's Opera, Doc?"
Twilight in Tunes: The Music of Raymond Scott
Powerhouse in Pictures
Putty Problems and Canary Rows
A Chuck Jones Tutorial: Tricks of the Cartoon Trade
The Charm of Stink: On the Scent of Pepé le Pew
Disc 2:
One Froggy Evening
The Three Little Bops
I Love to Singa
Katnip Kollege The Dover Boys at Pimento University
Chow Hound
Haredevil Hare
The Hasty Hare
Duck Dodgers in the 24 1/2 Century
Hare-way to the Stars
Mad as a Mars Hare
Devil May Hare
Bedeviled Rabbit
Ducking the Devil
Bill of Hare
Dr. Devil and Mr. Hare
Bewitched Bunny
Broom-stick Bunny
A Witch's Tangled Hare
A-Haunting We Will Go
Feed the Kitty
Kiss Me Kat
Feline Frame-Up
From A to ZZZZ
Boyhood Daze
It Hopped One Night: The Story Behind "One Froggy Evening"
Wacky Warner One-Shots
Mars Attacks! Life on the Red Planet with My Favorite Martian
The Ralph Phillips Story: Living the American Daydream
Razzma-Taz: Giving the Tasmanian Devil His Due
Disc 3
A Greeting from Chuck Jones
Chuck Amuck: The Movie
Chuck Jones: Extremes & In-Betweens: A Life in Animation
Chuck Jones: Memories of Childhood
Ken Mundie's expressionist anti-war short, "The Door"
How the Grinch Stole Christmas Pencil Test
The Animated World of Chuck Jones (Nine Cartoons)
Nine Bonus Cartoons
Your Daily Blend of Entertainment News
Your Daily Blend of Entertainment News
Thank you for signing up to CinemaBlend. You will receive a verification email shortly.
There was a problem. Please refresh the page and try again.