Watch Alaskan News Anchor Drop An F-Bomb And Quit On Live Television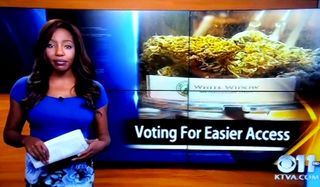 The local news is rarely high-quality television, but due to the fact that the local news airs live, it's an unpredictable beast, filled with on-air flubs as well as the occasional F-bomb. Last night, CBS affiliate KTVA in Alaska had a reporter quit after admitting she was the owner of the Alaska Cannabis Club she was reporting on. You can check out the video, below.
In the video, KTVA news reporter Charlo Greene is discussing a local cannabis club when she stops in the middle of her report to admit that she is actually the owner of the club, noting that she will be quitting her job in order to "dedicate all of her energy towards fighting for freedom and fairness." As she obviously didn't clear this little addendum with her bosses, she notes she doesn't have much of a choice but to leave her news job, saying, "Fuck it, I quit."
What's even better is the reaction of the other news anchor, who trips over her words like six times after Greene walks off the soundstage. She also tries to go to commercial break before deciding to continue talking. We should give her a break, though, as that would be a tough act to follow.
I'm sure there were a few angry and unsympathetic viewers last night, but for everyone else, it was a pretty amusing and still eloquent take on Scarface quitting his job in Half Baked.
This morning, KTVA tried to cut its losses on Twitter, apologizing for Greene's language used on air and stating that she had been terminated. Under the tweet, more than 100 commenters pointed out that Greene had quit live on air, making it difficult to fire the reporter. Valient effort, though, KTVA, valiant effort.
Greene for her own part has taken the loss of her job in stride, creating an Indigogo campaign to allow her team at the Alaska Cannabis Club to head across the massive state of Alaska in order to raise awareness about drug reform policies in the state. Here's what she has to say.
There's a difference between saying "fuck it" on air in order to quit a job you dislike, breaking bridges simply for the sake of watching them fall down, and saying "fuck it" to stand up for something you believe in. Greene is definitely the latter personality, and hopefully her Indiegogo plan will see results.
If you are in the mood to watch more local news anchors get into some shenanigans, there's always the news anchor who mistakenly simulated oral sex, the female reporter who accidentally drew a penis, or the local news anchors who obsessed over an Incredible Hulk statue in some dude's backyard.
Your Daily Blend of Entertainment News
Reality TV fan with a pinch of Disney fairy dust thrown in. Theme park junkie. If you've created a rom-com I've probably watched it.
Your Daily Blend of Entertainment News
Thank you for signing up to CinemaBlend. You will receive a verification email shortly.
There was a problem. Please refresh the page and try again.