Watch Andy Samberg And Adam Sandler's Hilarious SNL 40 Digital Short That's When You Break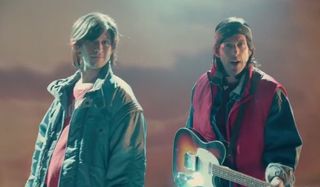 Last night's 40-year anniversary special on NBC's Saturday Night Live was packed to the brim with some of the best names in comedy reminding us of how great SNL can be. Among them were the two silly songbirds, Andy Samberg and Adam Sandler, who decided to team up for an all new digital short. The song, entitled "That's When You Break" played tribute to the uncontrollable outbursts of laughter that cast members couldn't help throughout the years of live sketches. Watch below:
Some may claim that they hate when the SNL cast members break out of character, and crack a smile, but it is often one of the funnier moments of a sketch, because if these comedy superstars are breaking down, then come on, the joke must be pretty darn funny. Andy Samberg and Adam Sandler are no strangers to getting a case of the giggles, and while Samberg holds steady to the fact that "we never broke", Sandler insists that, "wasn't that kind of our thing?"
But the real duo that the song is plays tribute to are Jimmy Fallon and Horatio Sanz who were somehow able to break out in laughter during almost every one of their bits. Isn't that the best though? Cracking yourself up. I sure think so, and man could Fallon and Sanz do it so well. One of the sketches that the short gives a glimpse of is a personal favorite of mine, "Aquarium Repairman" where the two just completely lose it during their psych evaluation. It is often Fallon who makes the first "break" in a sketch, but it always seemed that he did so way more with Sanz around. The two just couldn't keep a straight face around each other.
There were a few other big highlights in Samberg and Sandler's four-minute short. For one, it started off with Zach Galifianakis rocking the same big blonde wig as pop star, Sia. Zach Galifianakis says, "Maybe somebody tell me that Sia and I have the same stylist next time, huh." and then as he sighs, he tells Wally to give him the next card, please. Galifianakis needs to open every time, not to say the guys not a total headliner, but for some reason, he just is so great at setting the mood for the next sketch. His delivery on quick one liner jokes is just so great, that you don't need much more.
Also, in the middle of the short Samberg and Sandler play a quick tribute to the man behind the madness, Lorne Michaels, who they claim loves it when the cast members "break". He's the man in the back "nursing the glass of white vino", an "american treasure", and as the two put it so well, his legacy truly will last forever. And it's no joke when we say SNL truly will last forever, even long after its final episode, the shorts and sketches were some of the beautiful beginnings to the comedic actors we've grown to know and love.
Your Daily Blend of Entertainment News