Watch Ben Affleck Sneak Matt Damon Onto Jimmy Kimmel Live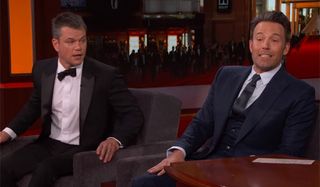 It's a well-known fact that Jimmy Kimmel and Matt Damon have been in a "feud" for quite some time now, ever since Kimmel dropped his first "Apologies to Matt Damon, we ran out of time," joke on his late night series. In the years since, the feud has gotten a bit out of hand, and in last night's episode, Ben Affleck tried something very different to get the famous actor and late night host to reconcile. He actually hid Matt Damon in his coat. You can check out the really funny bit, below.
During the segment, Ben Affleck came out in a giant coat, sort of reminiscent of David Byrne's Big Suit. Only, Affleck's coat had a secondary purpose: to hide Matt Damon. Obviously, Jimmy Kimmel was no fool and totally caught on to the gimmick, pulling Damon out from under the coat. He curtly informed The Martian actor that he was trespassing and tried to get his cameraman to cut Matt Damon out of the shot. Eventually Damon was dragged off of the stage, leaving Jimmy Kimmel to talk about the Oscars and the first time that Ben Affleck and Matt Damon earned the prestigious award for Goodwill Hunting. The bit also included this epic look-back at the guys' very first Academy Awards ceremony.
Later, after Matt Damon was removed, Jimmy Kimmel asked Ben Affleck what it was like to be at his first Oscars. Affleck said that he and Matt Damon were pretty young at the time, and they didn't think they could possibly win an award. However, they did end up winning and had to come up with speeches on the spot. It's a funnier story when Ben Affleck tells it, so if you haven't given the video a watch yet, we highly suggest you do so.
The Matt Damon and Jimmy Kimmel feud has been going on for well over a decade at this point. Kimmel is the actual culprit behind the feud, but Matt Damon has fueled the fire over time, including teaming up with Jimmy Kimmel's then-girlfriend for "I'm fucking Matt Damon." There have been several additions to the feud since then, but the two men semi buried the hatchet when Matt Damon was auctioning off an Omaze experience for Red just before the holidays. It was a sort-of truce that didn't last for very long.
Really, we all know this feud happens in good fun, but as one of the longest-running late night bits, I can't get enough. There's likely to be more to the Matt Damon and Jimmy Kimmel feud in the future (hopefully facilitated by Ben Affleck). Keep your eyes peeled when Jimmy Kimmel Live! airs on weeknights at 11:35 p.m. ET.
Your Daily Blend of Entertainment News
Reality TV fan with a pinch of Disney fairy dust thrown in. Theme park junkie. If you've created a rom-com I've probably watched it.