Watch Ellen Scare The Crap Out Of The Walking Dead's Lauren Cohan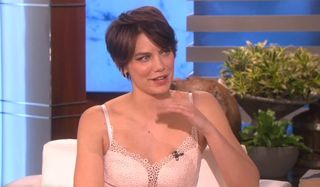 After five seasons on The Walking Dead as Maggie Greene, actress Lauren Cohan has mastered the art of appearing more or less stoic in the face of the scary. It's a talent that no doubt served her well in her new horror movie The Boy. All in all, Cohan seems to have conquered fear in the fictional spheres of showbiz. As she learned on a recent trip to The Ellen DeGeneres Show, however, she's not quite so fearless when it comes to real life. Check out this clip of Ellen scaring the crap out of Lauren Cohan.
In her defense, Lauren Cohan has mastered the arts of staring zombies and evil dolls in the eye. Her role as Maggie wouldn't exactly have conditioned her into keeping her cool at a masked man popping out of a table. Honestly, it's impressive that Cohan didn't have a more extreme reaction.
In fact, Lauren Cohan was downright graceful in her response to the scare. There aren't many of us who could turn a scream of terror into a gale of laughter in approximately two seconds, but she managed it.
Of course, Ellen is notorious for playing pranks on her guests, so Lauren Cohan could have been ready to laugh off any surprises. If Cohan feels the need to commiserate with anybody about getting a fright during an appearance on the show, she can call up Scarlett Johansson. At least Johansson was lucky enough to have the crap scared out of her by Chris Evans instead of a guy who took a wrong turn on the way back from a Phantom of the Opera dress rehearsal.
The masked man could be counted as somewhat brave for leaping out to surprise Lauren Cohan. Maggie may be a fictional character, but there's no denying that Cohan knows how to get dirty and…well, stabby. It's a good thing that Cohan wasn't armed or in character, or this could have turned into another on-screen stabbing.
She does get credit for at least being prepared for a classic Ellen prank. Who could have really predicted that there was a grown man hiding inside of a table for the entire interview before he made his move? She might have been perfectly ready for a zombie rushing out from stage left or a doll creeping in on her from behind; Ellen taking Lauren Cohan out of her horror comfort zone was what really made this clip so much fun to watch.
Fun to watch the second time around, anyway. It's probably safe to say that she was not the only person to jump and shriek a little bit at the scare. At least most of us get to do so behind the anonymity of our screens.
Lauren Cohan has been off the air as Maggie ever since The Walking Dead began its winter hiatus at the end of November, but she'll be back in all her grimy glory when the show returns on February 14 on AMC.
Resident of One Chicago, Bachelor Nation, and Cleveland. Has opinions about crossovers, Star Wars, and superheroes. Will not time travel.
Your Daily Blend of Entertainment News
Thank you for signing up to CinemaBlend. You will receive a verification email shortly.
There was a problem. Please refresh the page and try again.