Watch Jada Pinkett Smith Talk About Hot Dudes And Will Smith's Sex Scenes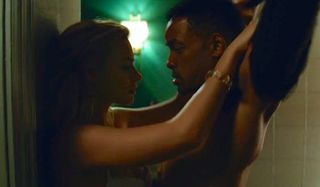 Will Smith may be in the spotlight right now with his recent success in the film Focus co-starring Margot Robbie, but that doesn't mean that his wife, Jada Pinkett Smith can't share some spotlight too. Recently she announced that she will not be returning for Season 2 of Fox's hit series, Gotham, but she has other projects at her forefront, including the film Magic Mike XXL. And in discussing the latter on NBC's Late Night with Seth Meyers Smith shared what she really learned from the hot men on set, and her own ideas of sexy. Check it out:
First off, if you needed any more proof that Jada Pinkett Smith and Will Smith are a match made in heaven, here you go. Even her mannerisms remind me of the Men In Black actor. And she's freaking hilarious. Her story about the set of Magic Mike XXL was hysterical. But, more so than her way of telling the story, her dramatic flair, the story itself was quite the eye-opener. As she begins by simply stating to the Late Night with Seth Meyers host, "I learned something very interesting" you know there's going to some sort of spice.
[[ br. br ]] The first Magic Mike was insanely popular among women, and if we've learned anything from the recent success of 50 Shades of Grey, sex sells. But what's funniest about this story is that instead of it being all about her swooning on set, Smith's moral is that she feels real damn bad for men. After her knee buckled and her 'other head' went right to thinking 'procreate, procreate, procreate' she instantly realized that that's what men go through all day long. And she adds "that was a hard day" to which Meyers slyly puns, "rock hard".
The best moments of the interview are definitely when she's talking about her hubby though, because come on, we all love to hear about this lovable couple's reality. And you can definitely tell she loves her husband. When her 'other head' starting talking Smith added:
[[ br. br ]]
But the Will Smith talk obviously didn't stop there, as Meyers had to ask about all these rumors about Jada Pinkett Smith loving to watch her husband's sex scenes in his movies. And her response, was just perfect:
[[ br. br ]]
All in all, what we can take from this interview is that the Smith clan rocks. And Seth Meyers is deeply thankful for Smith providing him with the "hottest interview he's ever done". You can catch Momma Smith in Magic Mike XXL on July 1, and for the remainder of Season 1 Gotham Monday nights on Fox.
Your Daily Blend of Entertainment News