Watch Jennifer Aniston And Lisa Kudrow Curse At One Another On Kimmel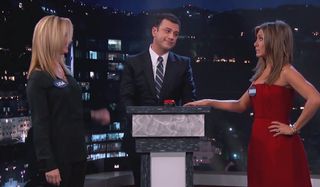 Jimmy Kimmel's not the late night Jimmy who is most known for putting together games. However, he does have one excellent game, "Celebrity Curse Off," and last night he convinced former Friends actresses Jennifer Aniston and Lisa Kudrow to get in on the action. Because it is bleeped out, it's sorta safe for work, but use your best judgment!
Early in the video, Jimmy explains the rules of the game. Contestants have five seconds to shout out an expletive, after which the other contestant takes a turn. Curse words can't be repeated, and the first contestant to run out of stuff to yell, loses. It's pretty straightforward, but it's easy to marvel at how inventive The Comeback and Horrible Bosses 2 stars were able to get with their cursing. There was even some French and Greek thrown in!
After numerous rounds of back and forth, the eventual win went to Jennifer Aniston, who also earned a giant-ass soap on a rope for her troubles. To be fair, Aniston won by default, after Lisa Kudrow failed to come up with a curse word that had to be bleeped out by the censors. She seemed to be losing steam for a while, though.
This isn't the first time that Jimmy Kimmel has brought fans the joys of "Celebrity Curse Off." Last spring, we saw the oddball coupling of Julia Roberts and Sally Field, during which the flying nun kicked the butt of her compadre. However, I like the details that Jimmy Kimmel Live! added this time around. "Celebrity Curse Off" was tough to follow early on by TV audiences, since it sometimes wasn't clear what expletive was being thrown around. This time around someone threw on bleeped-out subtitles, making it much easier to follow the game.
Actually, though, I'm a bit more interested in the fact that this is the second time the two Friends gals have popped up on the set of Jimmy Kimmel Live in recent months. Back in August, the late night host convinced both women—and Courteney Cox—to appear on the show, writing a sexed up Friends skit for the women to accomplish. It even came with an $80,000 replica Friends kitchen. I'm surprised Jimmy Kimmel managed to coax the women back after that stunt, but happy that he did.
You can catch ABC's Jimmy Kimmel Live! on weeknights at 11:35 p.m. ET.
Amazing Race & Top Chef superfan with a pinch of Disney fairy dust thrown in. If you've created a rom-com I've probably watched it.