Watch Jimmy Fallon And Heidi Klum Pound Fireball Shot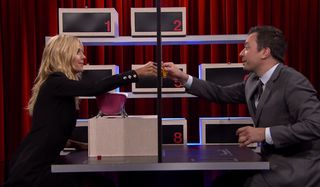 Heidi Klum may not be the perfect 10 (according to Donald Trump), but she is a fine enough "Box of Lies" player. On Wednesday, she popped up on The Tonight Show Starring Jimmy Fallon and ended up playing the popular game with the late night host. During the first round, Jimmy Fallon caught the Project Runway host in a lie when she failed to admit she had a mini bathtub filled with Fireball in front of her. After the round, she convinced the late night host to throw back a shot of the cinnamon whiskey. Catch the amusing segment, below.
"Box of Lies" can be a hard game. It requires quick thinking on your feet and an ability to maintain a strict poker face, whether the player decides to lie or tell the truth. In the first round, Heidi Klum actually did an admirable job of holding her own through the lie, but Fallon has played the game enough times at this point to have a pretty good feel for it. Although the round was fun, it was even more amazing to watch the two individuals crush out a shot of Fireball like champs.
Klum may have been caught in a lie during the first round of The Tonight Show's game, but she also figured out Fallon's lie right away when he took the next turn. I think he had two big slip-ups, honestly. First, he said there was a Jello mold and the "Box of Lies" segment has already used enough Jello that it seems unlikely the trick would be tried again. Secondly, he said Justin Bieber was inside and later amended that, instead saying it was Justin Bieber heads in the Jello mold. Really, it was a slinky with Monopoly money stuffed between the rungs, which was weird enough.
Whoever comes up with the items to put into the "Box of Lies" boxes is seriously creative. Fireball in what looks to be a Barbie-sized bathtub is not even the oddest object the segment has come up with before. "Box of Lies" is a pretty popular Tonight Show sketch, and it's probably not going anywhere, so I fully expect plenty of creativity from the creative team in the time to come.
The Tonight Show Starring Jimmy Fallon currently runs on NBC on weeknights at 11:35 p.m. ET. If you want to catch more of Heidi Klum's bubbly, fun-loving personality, new episodes of Project Runway air on Thursdays at 9 p.m ET over at Lifetime. Recent episodes are also available on the network's site. In addition, to see what's coming up this fall, head here.
Your Daily Blend of Entertainment News
Reality TV fan with a pinch of Disney fairy dust thrown in. Theme park junkie. If you've created a rom-com I've probably watched it.