Watch Heidi Klum And Prince Oberyn Get Busy In Sia's New Music Video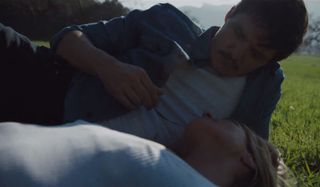 Australian singer/songwriter, Sia, is not afraid to create some truly bizarre and unique music videos. Earlier this year, the music video to her song, "Elastic Heart" featured a half naked Shia LeBeouf and 12-year-old Maddie Ziegler in a strange yet beautiful interpretive dance number. Now, she's revived Prince Oberyn from his gruesome death in HBO's Game of Thrones and paired him up with a sexy Heidi Klum in a steamy love affair for the song, "Fire Meets Gasoline". Take a look:
The two get awfully close and comfortable throughout the video, with more than a few sexy time shots between the runway model and Game of Thrones hunk. Leave it to Sia though to ease all of our hearts from our consistent mourning of Pedro Pascal's character in the hit TV series. At least we got to watch him get busy with another stunning celebrity.
The video was directed by Emmy nominee Francesco Carrozzini and it follows a gorgeous love story, with a twisted ending, because if Sia is involved, something must be out of the ordinary. Klum also rocks the pop star's signature wig at the end of the video as she walks away from a house up in flames by her own doing.
The flames pair beautifully with the passion heating up the affair, and Klum and Pascal make quite the attractive couple. The message holds that the two belong together like fire and gasoline but towards the end of the video as the two are driving around in a pickup truck, Pascal shows Klum a bloodied rock, and that's when it shifts to actual burning fire. Who knows what that rock meant, or what had happened. It's left up to the imagination, but it is clear that it caused the two to run away, leaving no trace behind.
Klum chatted with US Weekly about the video and her personal admiration for Sia. She extended extra praise to Pascal stating:
I'm enjoying this new wave of celebrities appearing in music videos. Talented actors such as Tom Hanks are taking on a new medium, and we can't wait to see who makes a grand appearance next.
Your Daily Blend of Entertainment News