How Jay Leno Feels About Jimmy Fallon's Tonight Show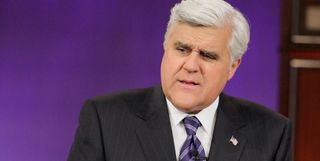 It's hard to believe that Jay Leno has been gone from The Tonight Show for almost a year. The longtime host of The Tonight Show seems very much at ease with his post late night life and still gets to do what he loves: make people laugh albeit on a smaller scale. New host Jimmy Fallon has seemingly taken the late night world by storm redefining The Tonight Show brand and making his show very different than Leno's old LA-based gabfest. So what does longtime host Jay Leno think of his heir apparent? "Terrific" is the word he uses.
Leno seemed completely at ease with his post-Tonight Show life when he sat down with People backstage at the Florida Hospital Golden Gala, a charity event that raised money for the Children's Epilepsy Program. Leno was the host of the late night staple for a whopping 4610 episodes after taking the reigns from Johnny Carson in 1992.
It was a special moment seeing that the two hosts are simpatico after Leno paid a recent visit to Fallon earlier this month. Seeing the old workhorse jab the young upstart about the finer points of purchasing an "old-timey car" is pure late-night magic. While Leno's Tonight Show and Fallon's iteration are very different shows, it is good to see that the torch has been firmly passed without any bad blood.
The Tonight Show Starring Jimmy Fallon is very much geared toward the social media generation and continues to do a great job of making staple bits become water cooler fodder the next day. Even the mishaps like mega-band U2 canceling turned a negative into a positive for Fallon just a couple weeks back. Many complaints about Leno's show over the years were regarding the silver haired comic's desperation to be liked by all celebrities and guests. Despite the rumblings about the need to be loved, Leno always kept a smile on his face and went at the show with his fervent work ethic and dedication. However, Fallon seems to realize that having every guest love you is an impossibility and has taken any growing pains he has had so far in stride.
The Tonight Show will always be the gold standard of late night TV and an American tradition. Now, with Fallon firmly comfortable in his own shoes as NBC's top dog, it is nice to see Leno give the old "OK" sign that he received from Carson so many years ago.
Your Daily Blend of Entertainment News
Your Daily Blend of Entertainment News
Thank you for signing up to CinemaBlend. You will receive a verification email shortly.
There was a problem. Please refresh the page and try again.