Watch Scarlett Johannson Adorably Suck At The Tonight Show's Box Of Lies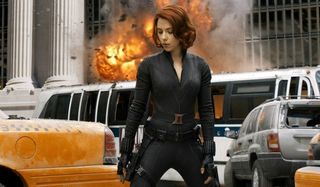 If only we could all look so cute when we're losing a game! Avengers: Age of Ultron star Scarlett Johansson plays a game of Box of Lies with The Tonight Show host Jimmy Fallon and loses, but it's still adorable to watch. Take a look.
In the video, from last night's episode of The Tonight Show Starring Jimmy Fallon, actress Scarlett Johansson and Jimmy Fallon go head to head in a serious game of Box of Lies. Too bad for the Avengers: Age of Ultron star, she's terrible at guessing if The Tonight Show host is lying to her.
The Lucy star was off to a good start with her description of the weight of the object that she removed from box #4; cleverly giving away an inaccurate account of how much the object weighed. Smart move, but unfortunately she couldn't keep the momentum going when she started to describe the object. She clearly wanted to laugh and it showed. The audience didn't help her cause with their persistent laughter, either; everyone got a kick out of Gumby sitting on the park bench with Johansson's character from the Avengers movies, Natasha Romanoff aka Black Widow. Then, her delivery of her description pretty much sealed her fate for the first round as Fallon was able to see straight through her lies.
Fallon's turn was much different as clearly The Tonight Show host is skilled in the art of the "fake out," considering he's played this game quite a few times before in the past. He actually gave the Avengers: Age of Ultron star an exact description of the object. He only used pauses in between to make it seem like he was making it up, when in fact it was all a ruse. Johannson picked up on that, but didn't proceed with her gut, costing her that point.
In the end, the Johansson was able to pull out the win over Fallon by using the same exact strategy on him. She described the final object exactly as it was and it worked like a charm. Johansson was victorious in the final round for the 1000 point win, even though Fallon played better overall.
If you're into watching more of Fallon's celebrity-filled games, check out The Tonight Show every weeknight on NBC.
Your Daily Blend of Entertainment News