Watch Jimmy Fallon And Rashida Jones Hysterically Remix Holiday Favorites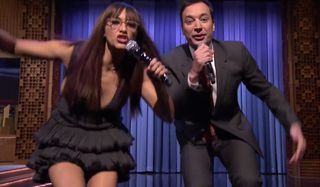 Jimmy Fallon is already in the throes of the holiday season spirit. His enthusiasm for the holidays is infectious on The Tonight Show, and last night he brought along celebrity pal Rashida Jones to join in the yuletide cheer. Instead of a lip sync battle, the duo belted out a four- minute medley of modern pop hits with lyrics tailored for the holidays. Like most music-related Fallon bits, it's a slam dunk.
You never quite know what Jimmy Fallon is going to pull on NBC's The Tonight Show. After a brief introduction, actress Rashida Jones appears from backstage with a mic in hand. From there on, it's a blitz of holiday hilarity as the duo tear up the stage, singing a bunch of Top 40 hits with clever holiday lyrics inserted instead of the usual words.They crush it, proving that Fallon has a knack for knowing which celebrity to sign on for which specific bit.
The pair tackle everything from "All About That Bass" and "Stay With Me" to "Anaconda" and "Let It Go." Without missing a beat they seamlessly infiltrate the pop music of today, turning the music into legitimate (albeit a little off-color) holiday music. The writing is spot on and Jones and Fallon make it work from the first Roots beat. You would think the two have been doing this perfectly orchestrated routine for years and they absolutely hit it out of the park. Complete with Santa Claus making an appearance, the crowd seems to love every last minute of the act.
My favorite lyric had to be Jones and Fallon on current hit "All About That Bass" where they lampoon something we can all relate to around the holidays: gaining weight. The verse goes something like this:
Rashida Jones and Jimmy Fallon's riff on "Stay With Me" is also really hysterical:
It seems that holiday song parodies are the way to go this season. In fact, Jimmy Kimmel gave a similar concept a shot earlier this week. Still, Fallon is a tough act to beat--especially when it comes to musical numbers. This holiday medley with Ms. Jones is a solid entry into the burgeoning holiday season. As for what Fallon has up his sleeve for the rest of the season, who knows. One thing is for sure, whatever it is, it will be damn entertaining.
Your Daily Blend of Entertainment News
Your Daily Blend of Entertainment News
Thank you for signing up to CinemaBlend. You will receive a verification email shortly.
There was a problem. Please refresh the page and try again.