Watch Justin Timberlake And Jimmy Fallon Perform History Of Rap Part 3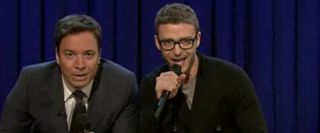 Justin Timberlake may still have no plans to make another album, even given the iffy box office performance of his latest movie, but we can still see him singing once in a while on late night TV. There's his frequent collaborations on songs like "Dick in a Box" with Andy Samberg on SNL, but even better, and slightly more straight-faced, are his and Jimmy Fallon's "History of Rap" mash-ups. They were at it again on Late Night With Jimmy Fallon last night for their third installment, mashing up songs as varied as "Killing Me Softly," "Mrs. Jackson" and "Parents Just Don't Understand." As you can probably guess, it's great. Take a look below.
Timberlake is obviously the more talented performer of the two-- just look at the way he moves his legs to see what a lifetime of dance training will get you-- but it's impressive how well Fallon keeps up. Of course, they're scraping a bit for iconic rap songs given that this is their third installment, but it's no less fun to see them throw themselves into a performance of something a little bit more obscure. Late Night continues to be one of the most surprising, enjoyable and genuinely joyful shows on television, and performances like this just raise the bar even higher. If you missed the first performance in this series, you can watch it embedded below. In fact, watch it on a loop a couple of times. I won't tell anybody.
'The History of Rap' by Jimmy Fallon and Justin... (opens in new tab) by le_geek_cest_chic (opens in new tab)I mean, I'd still rather have a new Timberlake album-- I'd rather have that than 90% of the things on TV or movies right now. But this will do in a pinch.
Staff Writer at CinemaBlend
Your Daily Blend of Entertainment News
Thank you for signing up to CinemaBlend. You will receive a verification email shortly.
There was a problem. Please refresh the page and try again.