Watch Snooki Explain How Mean Khloe Kardashian Was To Her When They Met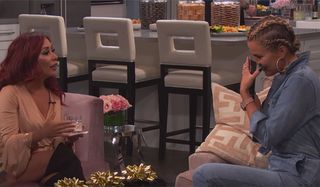 Khloe Kardashian has a brand new unscripted series called Kocktails with Khloe, which is pretty self-explanatory in concept. This week, she had special guest Nicole "Snooki" Polizzi on for an interview—and drinks of course—and the two reminisced about the first time they met. Only it wasn't really a nice blast into the past. Instead it was Snooki accusing Khloe of being downright mean while Khloe Kardashian acted like she had no idea what Nicole Polizzi was talking about. The exchange is totally ridiculous and you can watch it in full, below.
The basic gist of the video is that Snooki brings up the time they met, but Khloe refuses to remember, saying she "swear to god" has no idea what happened. So, Snooki explains that Kim Kardashian had actually asked her over to the house some years ago when she was a big reality star, and Snooki accepted because she was quote/unquote "obsessed" with Khloe Kardashian. It's probably not all that often that fans are more interested in Khloe than Kim—no offense Khloe—and Kim was super gracious about the whole thing. Unfortunately, Khloe was not. In the video, Snookie reveals that Khloe said this upon meeting her:
It's not as if the Kardashians are known for being pleasant when they don't feel like it. In fact, they've said a lot of mean stuff to one another--not just outsiders--in the past. Still, if you've ever wanted to make anyone feel totally out of place I think a "what the fuck" moment like that would probably do it, and then some. This led to some of the best "oh-no-she-didn't" faces we've seen in recent memory.
Meanwhile, the youngest Kardashian sister acts totally shocked, but as it turns out, she's totally full of it. We know this, because she admits to Snooki that it was her "wedding anniversary" when she decided to totally be mean to the former Jersey Shore cast member. This means that she did remember how horribly she treated the pint-sized star the first time she met her. Way to blow your cover there, Khloe.
The Kardashian clan has had plenty of feuds with different celebrities in the past, and this one seems to be pretty tame as far as gossip goes. Obviously, Snooki wasn't so offended that she decided an appearance on Kocktails with Khloe was not feasible. She showed up and seemed to be having a pretty decent time while airing her grievances against her--I'm assuming--former favorite Kardashian. If this is the cattiness FYI's series is bringing to the table each week, maybe we should all be tuning in.
You can catch new episodes of Kocktails with Khloe on Wednesdays at 10 p.m. ET, only on FYI. In addition, you can find out what is still coming up at midseason with our winter TV premiere schedule.
Reality TV fan with a pinch of Disney fairy dust thrown in. Theme park junkie. If you've created a rom-com I've probably watched it.
Your Daily Blend of Entertainment News
Thank you for signing up to CinemaBlend. You will receive a verification email shortly.
There was a problem. Please refresh the page and try again.