Watch A Weathergirl Drop In As Many Star Wars References As Possible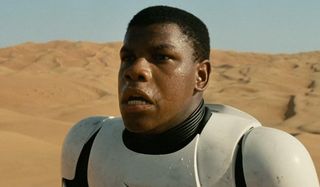 It's Star Wars week here at CinemaBlend and in other parts of the world, and everywhere you look people seem to be getting into the Star Wars spirt. (Just yesterday, I saw a road sign that said "I find your lack of seatbelt disturbing,' but I digress.) This week Channel 5 weather reporter Sian Welby put together a weather report feature some of the best and most groan-worthy Star Wars puns she could possibly shoehorn in. You have to check it out:
The references start flowing right away, although if you aren't paying attention, some of them are easy to miss. Welby kicks off with a Luke Skywalker reference, but it's pretty subtle unless you are paying attention. Luckily, the couple of references that follow are a little more obvious. Here's one of her opening lines:
You get the gist, but there also references to weather "striking back" and the weather lady imploring those heading into bad weather to not be "troopers." The report is only 40 seconds long, and if you haven't given it a watch yet, you really, really should. There are nods to a ton of titles in the Star Wars franchise, and as most of the big screenings of the film are kicking off tonight, now is the perfect time to enjoy a weather report like this one. After all, Star Wars frenzy is at its peak. Plus, you can be sure you won't be getting any spoilers from a simple weather report.
It's a tough gig being the weatherperson for any new channel, whether that channel be local or national news. You can only talk about rain, snow and sunshine in so many ways before the gig gets rote. Which is why it makes me pretty happy that a lot of weathermen and women have been spicing up the way they do reports lately. There's the weatherman who notably did a Game of Thrones-related report a few weeks ago. Here in the States, Fox 5 DC weatherman Mike Thomas absolutely crushes various music references in his weather reports. While some people probably would rather have their weather come without pop culture references, I'm all in on the trend, especially if it ends up pairing my love for
Star Wars: The Force Awakens opens wide today. If you somehow have missed out on all the hype, be sure to check out our guide for all of the main players. In addition, here's everything we know so far.
Amazing Race & Top Chef superfan with a pinch of Disney fairy dust thrown in. If you've created a rom-com I've probably watched it.