What David Duchovny Thinks Of Mulder's Investigative Skills In X-Files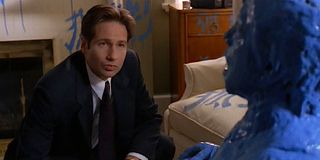 Fans of The X-Files undoubtedly went berserk earlier this week when Fox announced the conspiratorial sci-fi TV series featuring everybody's favorite F.B.I. duo Dana Scully (Gillian Anderson) and Fox Mulder (David Duchovny) would officially be returning for another run. That said, Duchovny recently weighed in on his character's skills as an investigator, and it turns out he doesn't have as high of an opinion of Mulder's skillset as one may have thought.
In a recent interview Q&A with The New York Times, David Duchovny discussed his iconic character Fox Mulder and his ability to crack cases during the series' almost decade long run. While the show racked up over a dozen Emmys and almost half as many Golden Globes, the actor made it clear his character wasn't exactly as skilled as, say, the folks behind the show's success. Here's what he had to say about Mulder's skills as an F.B.I. agent:
It's pretty hilarious when you think about it, with the series lasting nine seasons, that he can't claim success with even a single case. However, it's exactly that dynamic that kept fans glued to the screen for over 200 episodes. Duchovny took things one level deeper, when pressed in the interview about if he thinks he'll solve any cases this time around, saying he doesn't know but that he hopes not as "that would really change the show."
It was only a couple of months ago that we learned Fox was seriously considering bringing back the Vancouver-shot series after their confirming they had been in some very positive discussions with the show's creator Chris Carter. The only real concern at that point was finding the mutual time in Carter, Duchovny and Anderson's schedules. With the latest developments (earlier this week) solidifying all three are now onboard, it's clear they were able to work things out.
It has been over thirteen years since The X-Files series came to an end back in 2002. The science fiction drama series not only proved back in those days that there was a real demand for this type of material on television, it also showed that genre material could become a major network hit—ranking for a period of time as Fox's highest rated show. The X-Files even brought its iconic F.B.I. agents to the big screen in two feature films; 1998's The X-Files (which brought in almost $190 million worldwide) and 2008's The X-Files: I Want to Believe.
The series reboot of The X-Files, which will deliver six episodes, is set to return to Vancouver for shooting this summer. Let's hope that means we'll see the series run by next fall. Get caught up with the series before it disappears from Netflix on April 1.
Your Daily Blend of Entertainment News