The X-Files Reboot Might Actually Happen, Get The Details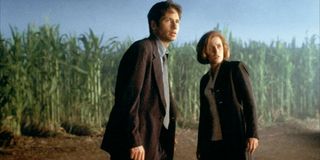 It's almost official. After speculation, and teasing from Mulder and Scully themselves, Fox has finally announced that they are in talks with series creator Chris Carter to revive the supernatural, super-successful cult-classic, The X-Files. [insert fan-girl squeal here]
Apparently, after the success of the 24 limited series, Fox decided it would probably be a good idea to bring back another iconic classic. Really though? They needed that as an excuse. We're sure the recent renewal of a certain other 90s cult drama played a role in the sudden spark. Regardless of motive, this couldn't be more exciting news. Today, Fox TV Group Chairmen and CEOs Gary Newman and Dana Walden confirmed the chatter between the network and Chris Carter, saying they were hopeful about the outcome. And along with the revival, Fox also revealed that they hoped to have David Duchovny and Gillian Anderson reprise their beloved roles of Mulder and Scully. Newman told Entertainment Weekly:
Both Walden and Newman ran 20th Century Fox Television prior to adding Fox broadcast last year, so they were there through the entire run of The X-Files. Walden continued:
But, Carter may not have as much on his plate right now since Amazon just a couple weeks ago canceled his show, The After. It is still unclear why Amazon abruptly decided not to move forward with the series with only a pilot produced, but Carter may be at a pivotal moment where he will highly consider revisiting his older masterpiece.
We already know that the stars of the show are ready and waiting for that call to come back to their iconic characters. Last summer, David Duchovny touched upon the show and his consistent friendship with Chris Carter and Gillian Anderson. When asked if Duchovny wanted to make a sequel to the 2008 X-Files movie, he answered, "I would always want to do it."
Gillian Anderson's desire to bring her scientific sceptic back to the screen is no different. And Anderson may have helped in lighting a fire under the Fox executives. The other day the actress was on The Nerdist podcast saying she would be "f***ing overjoyed" to reprise her role. So much so that she basically started a campaign to get a reboot going, telling fans to voice their support by tweeting #X-Files2015 and targeting Fox's Twitter @FoxTV.
A series like The X-Files never truly dies out, even when the show ends. But as we saw it spawn a movie franchise and endless fan campaigns begging for its return, Fox will undoubtedly be trying extra hard to get something this big into production. It will really all come down to the scheduling of the successful actors, because there is no show without Mulder and Scully.
Your Daily Blend of Entertainment News