What Happened To Simmons On Agents Of S.H.I.E.L.D.?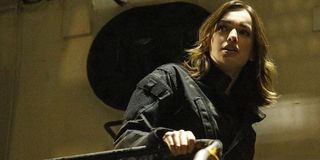 Spoilers for the Agents of S.H.I.E.L.D. Season 2 finale ahead!
Last night, Agents of S.H.I.E.L.D. wrapped up its second season with the two-part finale "S.O.S." Several storylines addressed, including the S.H.I.E.L.D./Inhuman war and Ward's torrid affair with Agent 33, but in traditional Marvel fashion, they just couldn't let viewers go without a cliffhanger. In the final minutes of the finale, Fitz and Simmons were studying the mysterious Kree Stone that was discovered over 100 years ago and has been in S.H.I.E.L.D.'s custody for decades. After asking Simmons out on a dinner date, Fitz left the room awkwardly, but Simmons promptly noticed that he had accidentally caused the glass case encasing the stone to open. Before she could shut it, the stone morphed into its liquid form, seizing the unsuspecting Simmons and swallowing her up. The good news? She's definitely not dead.
This was an unexpected and bizarre way to conclude Season 2, and now fans are left wondering what's happened to the actress. We already know actress Elizabeth Henstridge has signed on for Season 3, fans can take comfort knowing she hasn't been killed off, but her predicament is nonetheless concerning. Henstridge told EW that while she originally suspected that the stone taking Simmons might have something to do with her gaining superpowers (similar to the mist that gives Inhumans powers), now she has several other theories on her mind.
If Henstridge's transportation theory is true, the question now is where she's been taken to. Has she simply been dropped off at another location on Earth, or will it be somewhere else, like another planet or alternate dimension? Of course, transportation is only one option. Another possibility is that the stone has a consciousness of its own, and when it eventually spits Simmons out, it will somehow control her for its own purposes. Frankly, it's hard to speculate on what happened to Simmons since Agents of S.H.I.E.L.D. hasn't explained what the stone's deal is.
The stone, first seen in the episode "Scars," was created by the Kree to destroy the humans they experimented on, a.k.a. the Inhumans' ancestors. Obviously this wasn't successful, given that Inhumans are spread out across the world, but the stone is lethal to their kind if it is put in the wrong hands. Regardless, considering what it did to Simmons, it looks like it's dangerous to regular humans as well. Mack was wise to make sure that thing stayed locked up, but a clumsy accident has resulted in one of Coulson's most prized agents being absorbed, and who knows what she'll be like when she returns?
Simmons' fate, and hopefully what exactly the stone does will be revealed when Agents of S.H.I.E.L.D. returns for Season 3 this fall on ABC.
Your Daily Blend of Entertainment News
Connoisseur of Marvel, DC, Star Wars, John Wick, MonsterVerse and Doctor Who lore. He's aware he looks like Harry Potter and Clark Kent.
Your Daily Blend of Entertainment News
Thank you for signing up to CinemaBlend. You will receive a verification email shortly.
There was a problem. Please refresh the page and try again.