Why Playing An Inhuman On Agents Of S.H.I.E.L.D Is Weird And Uncomfortable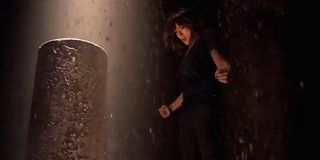 There are some brief spoilers from the Agents Of S.H.I.E.L.D. midseason finale, below. If you are not caught up on the series, consider this your warning!
When we last saw Skye on Agents of S.H.I.E.L.D. in the midseason finale "What They Become," she was revealed to be an Inhuman when her powers were awakened by the strange crystal inside the Diviner. When the series returns tomorrow, Skye and the rest of the team will be dealing with her new abilities, and needless to say, it won't be easy. However, the changes on set are difficult for the actress playing Skye, as well.
Actress Chloe Bennet stated that things have been different for her on set now that Skye is inadvertently causing earthquakes around her teammates. She revealed to ComicBook.com that most of this has to do with acting out her powers while filming scenes. Apparently, it's not so easy:
Most actors playing superheroes with powers use their imagination to act out said powers during the scenes they film, but even then, the post-production work may not match what they had playing out in their head. So the whole process can feel weird, but hopefully it's all worth it when the actors get to see their characters on screen using those powers and looking awesome, to borrow Bennet's favorite descriptive word. In Bennet's case, she gets to unleash tremors and put everyone around her at risk. Fun, right?
Skye isn't the only Inhuman that will be seen during the latter half of the season. Raina was in the cave with Skye when the crystal emitted the mist, but unlike Skye, her appearance was significantly altered to the point that she's now monstrous. There was also a man with no eyes (as in there aren't even sockets on his face) that had his own Diviner. Last month, Luke Mitchell was cast as an Inhuman named Lincoln who will play an important role in helping Skye "understand the true extent of her transformation." Agents of S.H.I.E.L.D. has the unique position of introducing the Inhumans before they appear in the MCU and get their own solo film in 2019.
Tune in when Agents of S.H.I.E.L.D. returns tomorrow to its normal timeslot at 9/8c on ABC.
Connoisseur of Marvel, DC, Star Wars, John Wick, MonsterVerse and Doctor Who lore. He's aware he looks like Harry Potter and Clark Kent.
Your Daily Blend of Entertainment News
Thank you for signing up to CinemaBlend. You will receive a verification email shortly.
There was a problem. Please refresh the page and try again.