How Agents Of S.H.I.E.L.D. May Play Into Captain America: Civil War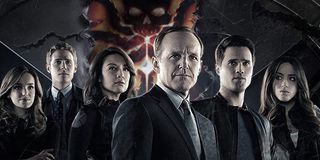 Although Agents of S.H.I.E.L.D. largely functions on its own in the Marvel Cinematic Universe, the show has had several opportunities to connect to the movies. For example, the final episodes of Season 1 explored the aftermath of Captain America: The Winter Soldier, while plot-lines from more recent episodes set up the opening scene in Avengers: Age of Ultron. The series hasn't been officially been renewed for Season 3 yet, but series star Clark Gregg is already looking to the future, explaining how the show could connect to next year's Captain America: Civil War.
In the original 2006 story, it was S.H.I.E.L.D. that helped enforce this legislation and registered those with powers. Because the S.H.I.E.L.D. team on TV is part of the MCU, not to mention significantly smaller, Gregg told Comicbook.com that while they may not take on the same role as in the comics, he could see them getting involved in the conflict. As Gregg put it:
It was also pointed out that Coulson and his team still have access to the Index, a list of nearly all the superhuman individuals and objects that exist in the world. When asked whether the Index could be used in a similar capacity to the Superhuman Registration Act database from the comics, Gregg thought that could at least be partially adapted.
Elements of the Civil War story have already reared their head on Agents of S.H.I.E.L.D. through the feud between Coulson's S.H.I.E.L.D. team and Robert Gonzales' team, as well as differing opinions among the characters on how to deal with people who have special abilities. If tensions are brewing this early, it's possible that by next year, the main characters will find themselves embroiled in this internal battle amongst each other. As for the Index, it's certainly feasible to see Coulson lending it out to the appropriate government officials if his opinion on superhumans change. Best case scenario, this also results in Tony Stark discovering his thought-dead friend is still alive, though judging by Joss Whedon's recent comments, it's doubtful this would happen.
Aside from the Avengers: Age of Ultron set-up and introducing the Inhumans five years before their movie comes out, so far Agents of S.H.I.E.L.D. has mostly acted in a supporting capacity to the movies. Captain America: Civil War could serve as another way for the show to lay the foundation for the film. The moviegoers would still be able to understand the 2016 blockbuster on its own, but the TV viewers would get something extra.
The Agents of S.H.I.E.L.D. two-hour season finale will air next Tuesday at 9/8c on ABC.
Your Daily Blend of Entertainment News
Connoisseur of Marvel, DC, Star Wars, John Wick, MonsterVerse and Doctor Who lore. He's aware he looks like Harry Potter and Clark Kent.
Your Daily Blend of Entertainment News
Thank you for signing up to CinemaBlend. You will receive a verification email shortly.
There was a problem. Please refresh the page and try again.