Why ABC Doesn't Mind Negotiating With The Shark Tank Cast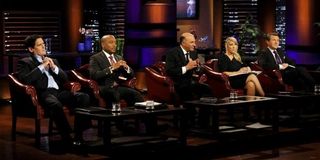 Fans of ABC's reality television show Shark Tank know that the sharks are a pretty tough team of negotiators when it comes to dealing with contestants on the show. Turns out, they're even tougher when it comes to negotiating with their bosses, but apparently, ABC doesn't mind.
The cast, led by Kevin O'Leary, is currently in negotiations to return to the show for another season and, according to Deadline, things are actually going quite well. So well, in fact, that network executive Paul Lee is going so far as to crack light-hearted jokes and, dare we say it, dish out compliments.
This is definitely good news for fans of the show and its recurring cast. After the recent Sony email leaks, some of which revealed Mavericks owner Mark Cuban's dissatisfaction over his salary and treatment at the studio, some of us were beginning to have our doubts. Apparently, Cuban was unhappy with being undervalued (something Cuban knows a thing or two about), and he insisted on more money. Things got so heated the billionaire and regular panelist on the show told the studio to start removing his image from its promotional spots. Now, how's that for negotiating power?
While all of this could be chalked up as promo material for the show, it's probably not that far of a stretch. Like any television show, as the popularity rises and old contracts expire, new deals have to be struck. It's the way the business works. It's just not always as difficult on every show as its is on Shark Tank because not everyone has negotiating abilities of Cuban O'Leary and the other sharks.
Reports say that deals with the show's regular cast, Robert Herjavec, Kevin O'Leary, Barbara Corcoran, Daymond John, Lori Greiner and Cuban, should be struck very soon. That's definitely good news for viewers, myself included. I personally love the hilarious dynamic between the cast. I've gotten quite used to hearing O'Leary (aka Mr. Wonderful) reiterate his fixation with money and watching Lori leverage her monstrous ties with QVC. As far as the cast demanding more money is concerned, I argue that seeing Daymond, Robert, Barbara and Cuban occasionally bend (sometimes even against their better judgement) when a contestant pulls at their heartstrings is priceless.
Shark Tank airs Friday nights at 8:00 p.m. ET following Cristela on ABC. Check out the rest of our midseason TV schedule here.
Your Daily Blend of Entertainment News